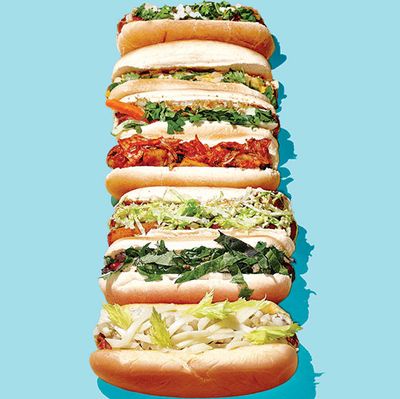 The chef-created line-up.
Photo: Bobby Doherty/New York Magazine
The current issue of New York includes a tribute to some of the greatest bar food ever devised by man: the hot dogs that super-chefs, including Wylie Dufresne, David Chang, and Daniel Humm created for the menu at Jim Meehan's PDT. We asked Meehan to tell us how what started as a function of the bar's being connected to a hot-dog joint became a chef's tubesteak showcase.
How did a Dave Chang hot dog end up on the menu at PDT?
We opened in the spring of 2007 with the Good Morning, Chihuahua, and Chili Dog, and eventually wanted to distinguish our offerings from Crif Dogs next door. My opening managers at the time, Don Lee and John Deragon, had a host of suggestions including a chef collaboration dog with Momofuku. Don ate there all the time and came up with the idea of asking for their kimchi to add to our signature bacon-wrapped Crif Dog. He wanted to call it the Chang Dog. Skeptical of Dave Chang's interest, and wary of his ire, I told Don to ask Dave if he'd consider it, and he agreed! At the time, we were getting Benton's bacon fat for our Benton's Old Fashioned from Ssäm Bar (now we get it from Noodle Bar), so Don started picking up quarts of kimchi with the lard. We agreed that in exchange for the kimchi (and bacon fat), we'd take care of Dave's bar tab. Once other chefs saw Dave's dog, many of them pulled me aside to ask what the deal was.
What about the Wylie Dog?
I settled on Stanton and Clinton when I arrived in New York in 2002, and wd~50 became my local. Wylie and I were close by this time, and he had recently substituted deep-fried mayo on the menu at wd~50 for deep-fried hollandaise. He offered to prepare a dog with the mayo as an exclusive.
How else do you decide who gets a hot dog on the menu?
I've always felt it was important to show solidarity, so we partnered with local chefs to highlight what was going on in the neighborhood. (I wish we had a Canora Dog as I look back, as Marco Canora and Paul Grieco were among the East Village Vanguard. It's never too late.) But we've definitely made exceptions to the East Village rule, and will continue to from time to time. Given that the chefs give us the ingredients in exchange for a bar tab, and most of them are too busy to come in, it ultimately ends up being a burden on their end. Sue Torres, who prepared the ingredients for her Torres Tots at Sueños, told me they were costing her more than $10,000 a year before she pulled the plug on that dish.