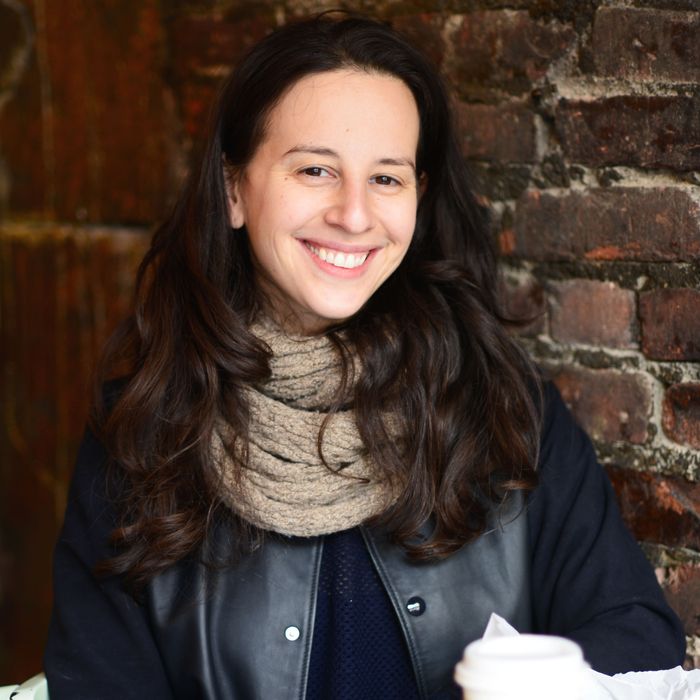 "I've done this all by the skin of my teeth."
Photo: Emiily Bennet-Coles
Last week, Los Angeles-based Jessica Koslow — the chef-owner of Sqirl, a tiny Silver Lake café with a huge cult following — came to New York to cook at El Rey Coffee Bar & Luncheonette. Her dinners quickly sold out, which should come as no real surprise, considering Koslow's on her way to becoming a national superstar. In just over two years, she's transformed her jam-focused bakery into a full-blown restaurant that receives rave reviews from local critics and has daily lines out the door. Now Koslow's working on publishing her first cookbook, opening two sister restaurants to Sqirl, and even thinking about taking the concept global. So while she was in town, we sat down with her to catch up at Black Seed bagels — where not one but two customers happened to recognize her, and approached her to gush about her cooking. Still, Koslow says that customers are surprised to learn that she's the mastermind behind the operation.
Your path to becoming a chef and restaurant-owner is rather unconventional. Can you walk me through all of the cities you've lived in?
First I lived in L.A., and then I moved to Massachusetts for college. I went to D.C. for grad school to study media theory at Georgetown. Then I moved to Atlanta. But I had always wanted to cook.
Did you grow up cooking?
No, I actually I grew up ice skating. And I didn't eat much! And then you grow older and start wanting to explore the world and see what it has to offer, and it was a love affair for me: I was eating out and cooking at home and just wanting to cook. I got a job at Bacchanalia in Atlanta, which is still one of the best restaurants in the U.S. I sent one of those emails where I wrote Anne [Quatrano], "I will wash your floor. I will candy 100 apples. I will do whatever it takes, so please hire me." I was willing to do whatever it took. But I was scared of making $10 an hour and figuring out how I would support myself, so I moved to New York and did television production.
What brought you back to L.A.?
I got a job in production there, and while I worked, I became a night baker for this place called the Village Bakery. I would do the 12 to 8 a.m. shift, and then sleep for two hours, and then go to work at 10 a.m., sit at a desk, and be like, "Ugh." So I left in 2011, went to Melbourne and did a stage at Dench Bakers, and then went back to Atlanta and helped Anne's new restaurant get through the holidays. And then I came back to L.A. and started Sqirl. It was just me and one other guy making jam and pickles for ourselves and restaurants, and trying to figure out how to make it work.
How did it turn into something larger?
I think that for anyone trying to make a really special product at a high price — which is a high cost to make — it's hard to survive. For me, it was impossible, and I had to go to do more. I worked in restaurants; I knew how they worked. I was a producer, so I knew we needed X number of people to get a job done. Sometimes when you are a cook, you can't see outside your ticket line.
Being a good cook doesn't mean you're a good business owner.
I've always had my mom as a role model. She's motivated me to want to be able to make it on my own, and to find something that I'm passionate about. She has two offices, she works six days a week, and she's 66 years old. And she found something really early in life — she always knew she wanted to be a physician — but it took me awhile to get there. That understanding that I'm only going to be happy if I'm doing what I love 100 percent translated into the work.
… I'm a woman in an industry in which it's really hard to be a woman. And besides the point of what I am — a female — it's nice to just be thought of as a good cook and have a good restaurant, no matter what. Very rarely do people know who it is behind the restaurant. I always feel like there's this moment of shock. Like, You? You look so young, you seem so young! You're a boss lady?
How do you keep up with demand?
I recently had someone live-tweet how long they were waiting in line at Sqirl — 26 minutes. I'm sorry! It's heartbreaking, because as a business owner, you want to make everyone happy, and you know that a line is not the best way to start. But it also makes it feel lively and vibrant and popular and exciting.
And you're expanding, correct?
Yes! Let's talk about Sqirl Away first. I just got my permits approved. That will be next door. It's to-go food, so you don't have to wait in line. Have you been to Gjusta? It's an extension of Gjelina, and it's good. At Sqirl Away, I want you to pick up a tumeric tonic and a gorgeous salad and leave happy.
Dinner is a harder thing. We're looking at spaces now. That's going to be the investment project. Sqirl and Sqirl Away are all mine; I don't have any investors. I've done this all by the skin of my teeth, by taking every job that I can possibly take, because I want to be able to make decisions and not have to feel bad about them, or be crunching numbers.
But it's going to be kind of a major dinner spot. It'll be called Mascarel. Jose Mascarel was a sea captain in the 1800s. He was from Marseilles in France, and he was the sea captain on a ship over to California. He became a bread baker, a vintner, a cooper, and a mayor of Los Angeles. He's the everyman.
What will the food be like?
Sqirl for dinner! Vibrant salads, really wonderful seafood — both raw and finely executed — and a menu that evolves. I think of Estela, and Walrus and the Carpenter … that, to me, is where I'm heading. American food, done with great ingredients.
I'm sure you've been approached to open more locations of Sqirl. Is that something you'd like to pursue?
I always get asked, "When's Sqirl Venice? Or Sqirl New York?" The interesting thing about Sqirl is that our specials change every day. Today, there's a mackerel sandwich: We pickle mackerel, add crispy capers, and it's like bánh mì. And a ramen matzo-ball soup! Tomorrow is going to be something different. That kind of energy and demand for change, while you still have the classics, makes the place special. So, yes, I could do classic Sqirl — we could open that in Venice — but I would need to harness the energy of the chefs so they can evolve.
I think Sqirl Away, as a to-go, could be a very frugal feast. That could be accessible anywhere as long as those dishes are figured out, — Ottolenghi-style. But Sqirl is special, and I want it to be special. I'm curious about Chad Robertson. He has Tartine, and there aren't other Tartines.
Chad has said that it's all about his staffers. If he has someone on his team who wants to move to New York, he'd consider opening there. He just doesn't want to force it.
Absolutely. David Chang wrote that you shouldn't own two restaurants — you should have seven — because it's actually easier to do seven than two. And I get it, but right now it's hard enough to do just one. And, now I'm going to have two, and then maybe three. But, with Momofuku, he's created something that's template-ized, and that can be taken to another place. Same thing with Pok Pok. Sqirl Away could be that thing for me. I wish it could be in Australia. That would be amazing.
That's the David Chang model: Take it to Australia!
He's got it right. Sydney's awesome. I'd also love to be back in New York — but how would it work? You have to have a million dollars to invest in the buildout to make it what it is to begin with! It feels like you're already drowning. So I don't know how it would work for me. It'd be very stressful. But, I mean, do I want to? Yes. I was walking down the street [in New York] the other day, and I was in tears because when I lived in New York, I didn't work in the food industry, and I always wanted to. I was always missing it. And then, to be back here and actually be doing what I want to do — what I wanted to do all that time — it was really emotional.