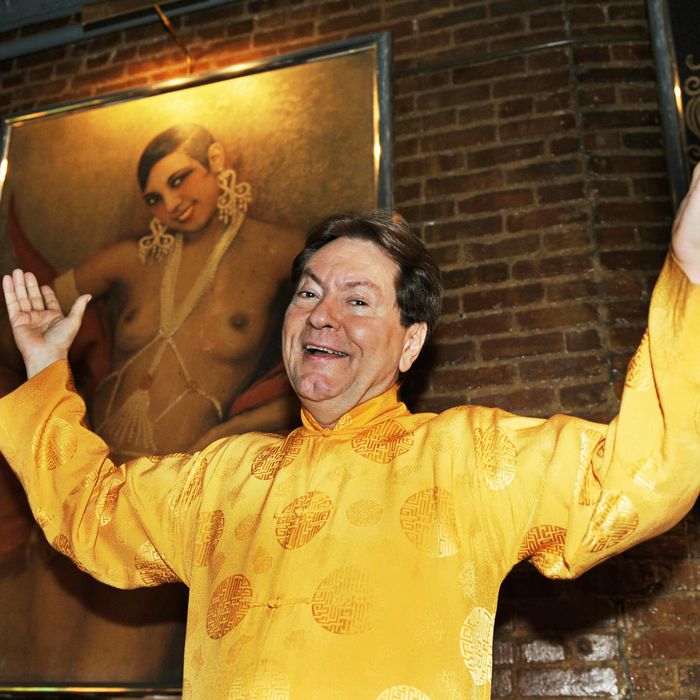 Baker, in front of a portrait of his adoptive mother.
Photo: Timothy A. Clary/AFP/Getty Images
Jean-Claude Baker, the owner of Hell's Kitchen restaurant Chez Josephine and adopted son of iconic performer Josephine Baker, has died at the age of 71. Baker committed suicide and was found dead in his car at his East Hampton home yesterday, the Times reports.
The 29-year-old restaurant took its name from a TV show and nightclubs once owned by Josephine Baker, whom Jean-Claude first met while living on his own in Paris at the age of 15, in 1958. The future author and restaurateur had come to the city in search of his father. Jean-Claude, who had already been working in hotels and restaurants by that time, began traveling with Baker that year. He later became her manager and formally took her surname in the 1970s. Josephine Baker died in 1975; Josephine: The Hungry Heart, his book about their difficult and complex relationship, was published in 1993.
Baker opened Chez Josephine in September of 1986 in the former La Rousse space. Its crimson-velvet-lined dining room quickly became a celebrity magnet — Jacqueline Kennedy Onassis was a regular — and the space served as tribute to Josephine Baker's days as a performer at Folies Bergère. Anchored by Broadway nearby, the place attracted performers of all kinds, including tap-dancers and musicians who sometimes stopped by to play piano. Chez Josephine's fried-chicken recipe came courtesy of Baker's sister, who was then living in Monte Carlo, and the restaurant soon became well-known for its lamb shanks and boudin. Today, it still serves Josephine's Bolognese recipe, which is spiked with cayenne. Jean-Claude, who was known to saunter past the velvet and warmly greet all customers who entered the front door, used to tell customers that his mother enjoyed the pasta dish with a big glass of beer.
[NYT]