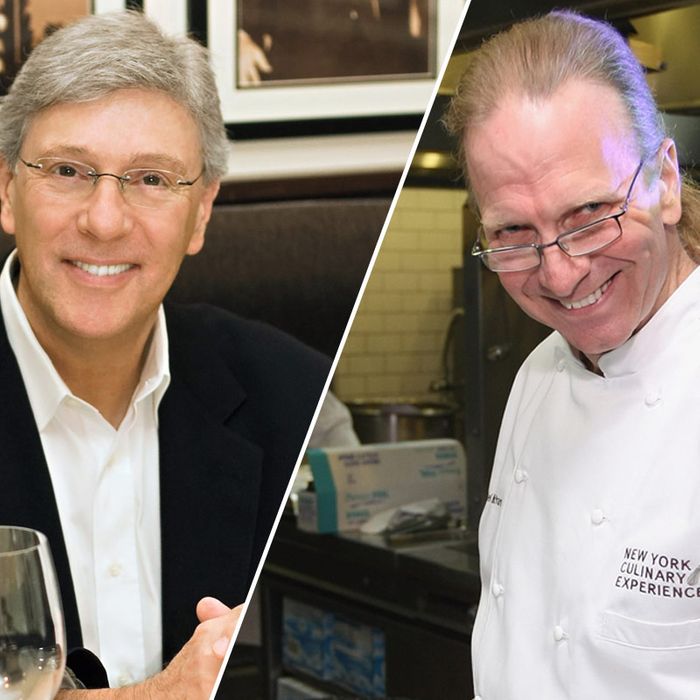 Melman, left; Michael Nischan, still rocking that ponytail, right.
Photo: Leye.com, Getty Images
For the first time in its 25-year history, the James Beard Foundation Awards will take place in Chicago, and the first of the nonprofit's 2015 honorees have just been announced. The Lifetime Achievement Award recipient is Chicago-based Richard Melman, founder and chairman of Lettuce Entertain You Enterprises, which operates more than 90 restaurants. The company's portfolio includes Tru, RPM Italian, and RPM Steak, as well as mini-chains Wildfire, Wow Bao, M Burger, and the pan-Asian Big Bowl. The company recently debuted a tiki bar, as well as Intro, a revolving chef restaurant in the the old L20 space. Working with Jerry A. Orzoff, his late partner, Melman "revolutionized food, presenting it with a sense of humor and creating a fun and youthful vibe, which paved the way for dining out as entertainment, a trend that swept this country in the early 1970s," the foundation writes.
Michel Nischan, who helmed the health-oriented Heartbeat at the W Hotel and went on to pioneer the locavore-focused style of food at the Dressing Room, Paul Newman's now-closed restaurant at the Westport Country Playhouse in Connecticut, is Humanitarian of the Year. These days Nischan is known as the founder and chief executive of Wholesome Wave, a nonprofit that works to improve access to healthier and sustainable food in areas where such ingredients are scarce. The group also works with lawmakers to improve the reach of nutrition benefits programs and on other policy issues.
The final nominees in all categories of this year's Beard Foundation awards will be announced on March 24.