Just when you thought our city had turned its back on ultrarich, collagen-wobbly noodle soup comes the fantastic news that Ichiran, the '60s-era "original red sauce" ramen chain from Fukuoka, is opening very soon, as in this-year-soon. George W. Bush was still in the White House and Twitter was clocking a mere 60,000 tweets a day in 2007 when the Underground Gourmet first announced a branch of the ramen-ya would open in Greenpoint. We waited two years for the place and read the signs, literally, like the ones posted outside touting an exclusive "limited membership shop" and "indeterminate date" of opening posted outside its future Brooklyn headquarters. But another five years passed, and no Ichiran. New York's ramen boom has since grown to include two Ippudo locations, Ivan Orkin's rye noodle installations in Hell's Kitchen and the East Village, and twin Totto Ramen shops in that time.
More recently — this was 2013, mind you — it was reported that Ichiran was moving forward with plans to open a Brooklyn production facility and a shop with 70 seats and 3,000 square feet in Manhattan near Madison Square Garden. Grub has heard rumblings that all noodle plans are now a go, and official word from Fukuoka is that the chain will indeed touch down in Manhattan this year, "but not in the summer." In an emailed statement, an Ichiran rep said the exact opening date was uncertain, which makes sense especially considering the nearly eight years spanning the first announcement and today's date. A lease has been signed, but the chain is not yet ready to reveal its location.
But there's plenty to start (cautiously) getting excited about: The chain is beloved for its singular offering, a marrow-infused, Hakata-style tonkotsu that can be ordered in varying degrees of porky flavor and bone-brothy thickness, which are actually just two categories out of five more that can be customized. Moreover, the chain is known for its partitioned boothlike seating arrangement, at which both mobile phone usage and talking are strictly forbidden.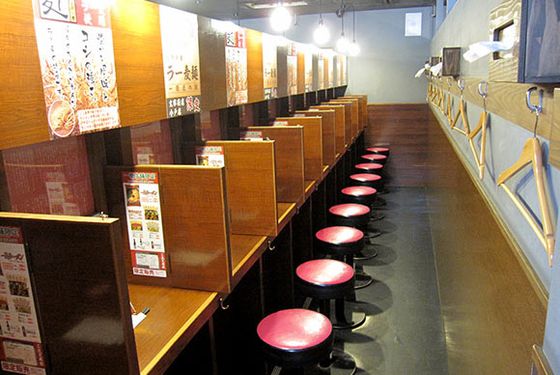 After you're seated, a little window rolls up and someone takes your order via a slip of paper listing the options. In silence, you select noodles of varying doneness, garlic by the clove, scallions of different thickness, and incremental doses of the chain's signature chile sauce. The idea is that minimized interaction with the outside world does wonders for your slurping experience. Customers don't even make eye contact with servers, which, in a time of food-photo oversharing, might be just the ticket.