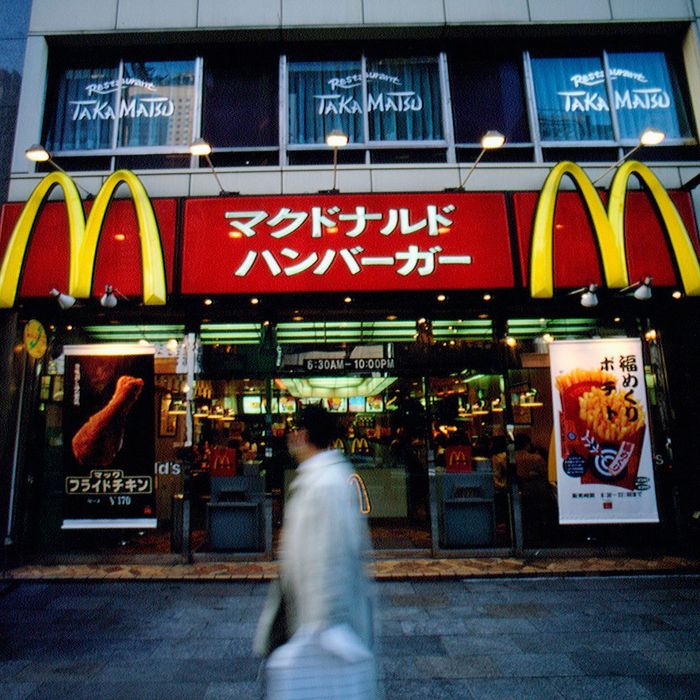 They're vowing to fight food contamination tooth and nail.
Photo: Bernard Annebicque/Corbis
A woman says a burger she ate — or attempted to — at a Japanese McDonald's in September contained three fragments of "what looked like teeth," forcing the chain to apologize a second time in three days for food containing human teeth. Yesterday, it addressed the second dental issue, which comes after someone else found a one-and-a-half-inch-long vinyl strip in a McNugget and another hunk of plastic was recently recovered from a sundae. "I took a bite," this latest customer said, "and there was a crunch." Results from an independent investigation revealed the white bits were "dental material," or the stuff dentists use to fill cavities with, but the chain says it's "extremely" unlikely they just fell into the meat, given the "highly mechanized process," so hooray for blending.
The chain is vowing to ensure product safety yet again, echoing Wednesday's press conference at which its senior vice president said, "I am confident that my family can eat McDonald's products." Regardless, Bloomberg reports that between the French fry shortage and the expired-meat debacle, McDonald's Japan's December sales fell by 21 percent.