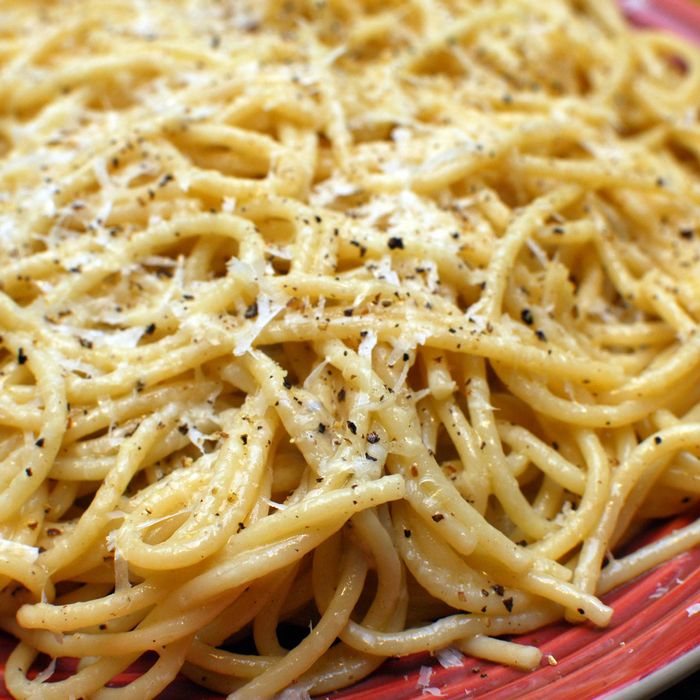 It's cacio e pepe time, baby.
Photo: Matthew Mendoza/flickr
This is it. The blizzard is here. The grocery-store shelves are stripped bare. Restaurants and bars all over town are closing early. And even the mayor wants you to know that calling for delivery is sort of a jerk move. Your only other option: Pull together whatever random stuff you have in your pantry and turn tonight's dinner into a real-life version of Chopped. To aid in that endeavor, here are thoughts and suggestions on things you can make using nothing more than stuff that's probably already hiding somewhere in even the worst stocked pantries and fridges.
Ferran Adrià's Potato-Chip Frittata
It's an otherwise simple Spanish omelette that swaps out potato chips for the usual fresh potatoes. It works really well. Use the Saveur recipe above or check out this easier version.
Shakshuka
If you've never had shakshuka, you should probably cook this now. It's basically just canned tomatoes, yogurt, and eggs, and there are endless variations. Including David Lebovitz's riff, Yotam Ottolenghi has a bunch of shakshuka recipes. This one, with baked-in yogurt blobs, is the simplest.
Tortilla Pizza
Turn the tortillas in your fridge into super-crispy pizza crust. It may not be pretty, but it'll get you through the storm.
Ramlet
It's an omelette seasoned with the spice pack in instant ramen. There's admittedly a time and a place for David Chang's latest masterpiece, and that time is tonight. The place is your apartment.
Pasta With Whatever Else You Have on Hand
Leave it to Alton Brown to go super basic. Use any of the stuff he calls for here, like capers and canned artichokes, to top, but you can also keep it simple with the addition of a few anchovy fillets.
Really Good Scrambled Eggs
This takes 20 minutes, with minimal stirring. Add cheese if you have it. Capers if that's your thing. And if you snagged some bread before everyone in New York bought it, there are worse ways to top toast than with these classic French scrambled eggs.
Øllebrød
A classic Danish porridge that has two ingredients: Stale bread and beer. Served warm, it's a great foundation for a scoop of ice cream from the freezer, too.
Maggi Noodles
Umami will warm your heart tonight.
Cacio e Pepe
You know, the O.G. pasta recipe that requires five ingredients, tops. Add an egg to the still-hot pasta, off the heat, to make it inauthentic but more hearty.
Peanut Noodles
Notice there are a lot of noodles here? It's the carbs that are going to get us through this storm.
Toddies
A solid nightcap should be integral to your game plan. And you can make a toddy with lots of stuff. Just combine hot water and brown liquor, then squeeze in whatever citrus you might have.
Hot buttered rum
Alternatively, this butter-thickened hot drink is a classic for a reason.