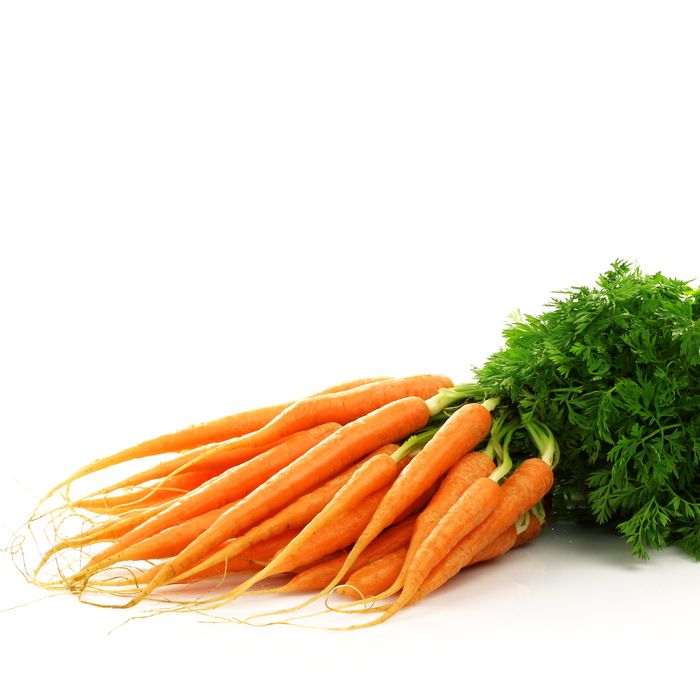 Highly prized produce.
Photo: Shutterstock
Dan Barber remembers the dawn of the current locavore craze, when he could roll into the Greenmarket at whatever time he pleased. "When we opened Blue Hill in New York City, if I wasn't there till 10 a.m., it was no problem," he says. "Now, when we go at 7 a.m., we're in a panic to get what we need."
Barber — the chef who has arguably played the biggest role in getting diners and cooks alike to fetishize ingredients such as multicolored beets, European potato varieties, tiny Brussels sprouts, and pluming bunches of kale — isn't alone. New "produce-forward" menus continue to pop up all over town and centerpiece vegetable courses are so prevalent that New York critic Adam Platt recently bemoaned the omnipresence of cauliflower, once considered to be a truly unsexy ingredient. With all the veggie love going on today, though, it's become more important and more difficult than ever for chefs to get the exact produce they need — which means they do everything they can to give themselves an advantage.
"You have to be really nice to make sure your produce is set aside," says Amanda Cohen, the chef and owner of the soon-to-reopen veggie-only spot Dirt Candy. "Asking about their family, inviting them in for dinner — some chefs push to the front, like, 'Hey do you have my order?' That doesn't work."
Indeed, chefs go even further, doing anything they can to curry favor with their preferred vendors. "We are a minuscule restaurant. Our buying power is zero," says José Ramírez-Ruiz, chef at the new, veggie-centric, 18-seat restaurant Semilla. So, to deal with that disadvantage, he makes sure his growers get paid as quickly as possible — as opposed to making them deal with invoicing. "Cash is king. I don't pay 15 days from now. I buy a product and I pay for it in that moment."
Rolling in with stacks of cash, though, is just the beginning. Many places do more to make sure their growers are happy. "Milk Bar really knows what they're doing," says Rick Bishop of Mountain Sweet Berry Farm — keeper of the city's most coveted Tristar berries. "They want strawberries every week through the whole summer? They pay me upfront; they pay me in advance; and when the drivers come to Union Square to pick them up, they jump out of the truck with boxes of cookies." (Bishop himself is partial to Christina Tosi's corn and Compost varieties.) He says SD26 chef Matteo Bergamini really knows how to go delightfully over the top, too: To get his prized Sorana beans, Bergamini drives up to the farm armed with steaks and ingredients for eggplant caponata, then cooks up a feast. "It's absolute bribery." Bishop confesses. "And it works."
Chefs who are willing to take a page from dumpster divers also help growers increase their bottom line, even when they don't have the best things available. "We are always interested in the stuff that's in the compost pile," Barber says. "You can make sauce from those broken tomatoes. We do that with a dozen farms throughout the week. If they have damaged eggplant, they'll text us and we'll invariably take it."
Of course, building a menu around less-popular ingredients is another effective strategy. "Let everyone fight over kale!" Cohen says. "When roasted carrots with yogurt sauce was everywhere, I said, 'Oh, hell no. We're not putting carrots on our menu.' I'd rather use vegetables no one is using, like kohlrabi."
That kind of menu flexibility is crucial for smaller spots. "I talk to the farmers, and they tell me they're going to have baby leeks in a week," Ramírez-Ruiz says. "I come back, and they don't have baby leeks. So we change the menu." He says it makes the actual cooking harder to organize, but it saves him the trouble of trekking all over to hunt down specific ingredients. "If you want a consistent carrot … stay away from the markets, or find a bigger farm."
Or better yet: Join forces with someone who can simply grow produce specifically for a restaurant. (Yes, bespoke squash is a real thing.) At Narcissa, John Fraser has the luxury of access to partner André Balazs's personal upstate farm, Locusts-on-Hudson*, where he can buy some of his ingredients. Though, he warns, that arrangement isn't always the most reliable, either. "You're at the mercy of mother nature," he says. "One hot summer day, and suddenly you have 500 pounds of tomatoes and we don't know what to do with them." (Diners are still feasting on that particular 2014 bumper crop, which is served as a preserve that comes with the cheese plate.)
Yet it's Barber who's figured out a way to get to his farmers earlier than other chefs, ensuring he'll get exactly what he wants: "You need to get them during seed-buying time, in January," he says. "You have them in for dinner in the cold of winter, with the seed catalogue, then you can get into their minds — hell, I'll even buy them the seed."
*This post has been updated to reflect the farm's correct name.