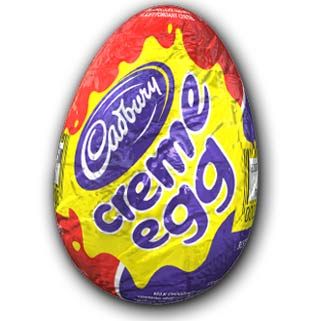 Dead egg walking.
Photo: Cadbury
Preserving the integrity of America's Cadbury Creme Eggs from the sort of changes affecting the original right now in the U.K. definitely won Hershey's some kudos, but the chocolate giant apparently doesn't need your love, especially if it's for British candy. The teeth on a lawsuit Hershey's attorneys filed last year against LBB and Posh-Nosh, two big British candy importers, are starting to sink this week, and real British chocolate's future looks pretty dark.
Here in the U.S., Hershey's owns the exclusive right to sell the American version of many British chocolates, which is how it came to be the Creme Egg hero. But according to the suit, these two importers "deceive the public" by stocking the shelves of what are largely British specialty stores with things from across the Pond that "confuse" folks into thinking they're the things Hershey's manufactures right here in the U.S. of A.
For instance, Yorkies and York Peppermint Patties. Or Toffee Crisps and Reese's: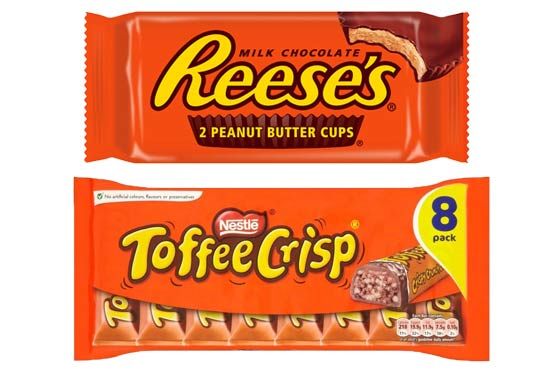 About the likelihood of this particular mix-up, the West Village's Tea & Sympathy dryly notes, "If you think Toffee Crisps look like Reese's Peanut Butter Cups your eyesight is a much bigger problem than your chocolate bar confusion." Nonetheless, the shop has stopped selling them, telling customers on Facebook last Friday: "Due to the legal action by the so called chocolate maker Hersheys, we can no longer import the real Cadbury chocolate from England." Unfortunately for owner Nicky Perry, she tells the Daily News she's already placed her Cadbury Easter order.
The fear is that the legal action will have serious implications — "NO more UK and EU Cadbury products," as one store owner put it. Someone has Hershey's convinced that its customers are not a discerning bunch. Just last year, it rescued them from the confusion of a Colorado edibles company's "Ganga Joy" and "Hasheath" pot doppelgängers.

Update: Hershey's offered Grub Street this response in the form of a Facebook posting.
We hear you, and certainly understand your concerns. We want to provide you with some more information about why it is so important for Hershey to protect our valuable brand trademarks. Our brands are among the most important assets in our company and the foundation of our business success. Protecting brand trademarks is critical responsibility of any company with valuable consumer brands. In this case, LBB Imports was infringing on our U.S. trademark rights by grey-marketing products intended for sale outside the United States. We cannot put our brands' rights, such as Cadbury, at risk by ignoring infringements such as these. We hope this helps give you a better understanding around our strong commitment to protecting our brands, and thanks for taking the time to reach out.
[NYDN]