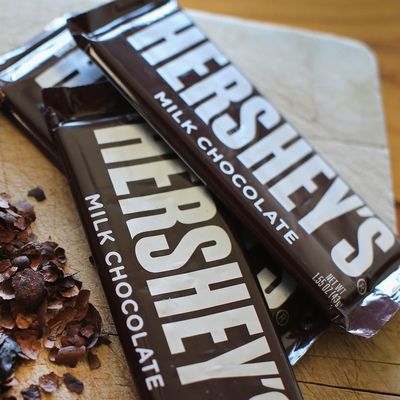 What the British call an "acquired taste."
Photo: Scott Olson/Getty Images
With America's two primary importers of British chocolate now wrangled into submission, Hershey's can rest easy knowing Reese's and York Peppermint Patties are again top dogs of the domestic candy aisle. Elsewhere, however, the chocapocalypse's consequences are already dire. Confectioners specializing in British chocolate tell The Guardian they've all but depleted suppliers' warehouses. Of course, once empty, they won't be getting new shipments of the stuff Hershey's contended in legal papers that it has the exclusive right to control and sell Stateside.
Among the no-nos on that list: Maltesers, Yorkies, Rolos, and others that seem clear-cut in some cases (the U.K. versus U.S. versions of Cadbury Creme Eggs), but not really at all in others (Toffee Crisps, which Hershey's says people "confuse" for peanut butter Reese's).
So chocolate lovers are left to make do with what one anti-Hershey's person calls a "dreadful Cadbury approximation," cataclysmic news for British expats, or Americans of any background, really, who prefer chocolate that doesn't have "sugar" listed as the first ingredient. It's drearier still for shop owners themselves. "I have a lot of customers who greatly prefer the English Cadbury to any version the Hershey company produces," says John McGill, of Brooklyn Heights's Two in the Pot. "Many of the favorite things are made by Cadbury."
So far, the anger has spilled most concretely into a MoveOn petition asking Hershey's CEO John Bilbrey to rethink the move, with comments varying from "Hershey, you're making more enemies than customers here" to a much pithier "we want Cadbury." Chances are high that more than a few Creme Eggs will be cracked before this all gets settled.
[Guardian]