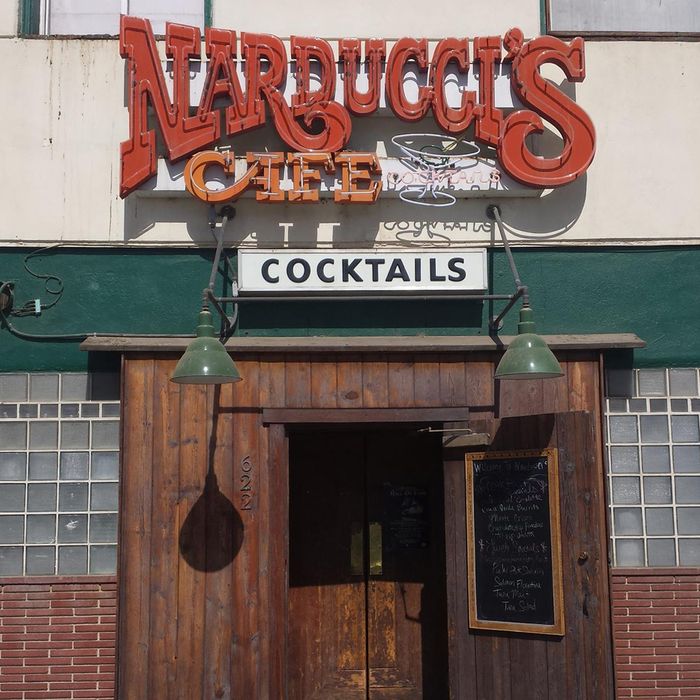 Looks like the façade would've been appropriately Fieri-esque.
Photo: Narducci's Cafe/Facebook
A ten-minute spin through the greasetraps of your kitchen on Diners, Drive-ins, and Dives is sufficient to translate into a windfall in sales, so it only makes sense that restaurant types scramble whenever his '67 SS roars into your local Flavortown. But according to one California restaurant owner, all that jockeying for Guy can get downright nasty. Consider the case of Julie Crawford, who police say sabotaged a planned shoot at Narducci's, her workplace, by rerouting Diners, Drive-ins, and Dives toward Pyrenees Cafe, an establishment Crawford recently purchased with her husband.
Narducci's owner, Jimmy Narducci, says he got a call from the show's producers, who he says were looking to showcase some of his Italian food. "I talked to a woman with [Diners] and she was on the phone looking at my menu," he says. Instead, he alleges Crawford intercepted the call and and convinced the producers to shoot at her new place.
Crawford says Narducci is simply confused. "My liquor salesman is a friend of Guy Fieri's and he offered it to me," she explained. "When they called me back, it was at Narducci's but they weren't calling Narducci's, they were calling me for Pyrenees." The skirmish resulted in the police evicting Crawford from the restaurant. It's unclear whether Guy Fieri toured either restaurant. If the Triple D taping doesn't work out, however, the pair seem to be shoe-ins for Judge Judy.