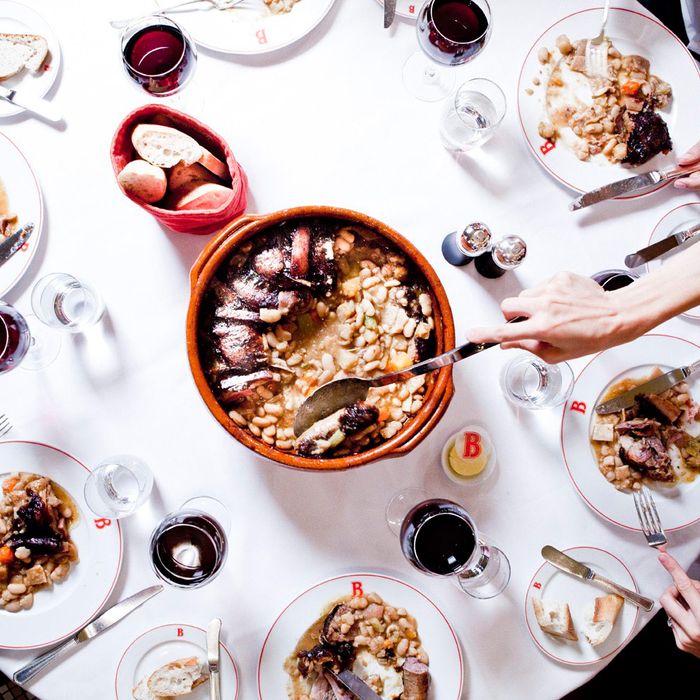 Don't forget about Benoit — always a great place for French classics.
Photo: Pierre Monetta
In case you missed it, it's not super pleasant outside in New York. Some light snow is in the forecast for tonight, and this weekend might see a Nor'easter. That means it's time to find food that will keep you warm. In other words, you need some cassoulet. And how lucky for you, plenty of places around town are offering the ideal cold-weather food right now and adding special touches like applewood-smoked jaggerwurst, housemade saucisson a l'ail, and duck jerky. Here are Grub's top picks:
Duck-Confit Cassoulet
Where: The Red Cat
Price: $22
Chef Mike Cooperman makes his cassoulet with rich duck stock, merguez sausage, confit duck hearts, and lardo — which he slowly cooks with garlic, onions, and flageolet beans. Plus: He finishes the dish with garlic butter, toasted breadcrumbs, and a classic confit duck leg.
Jaggerwurst Cassoulet
Where: Pearl & Ash
Price: $11
First, Richard Kuo cooks heirloom beans in a mix that includes spices, bacon rind, and pork stock. Then, he layers them with shaved heirloom carrots, pickled collard greens, applewood-smoked housemade jaggerwurst, and, finally, housemade duck jerky. (The latter's made by marinating duck tenderloins in soy, garlic, ginger, and jalapeños for a full day, before smoking and dehydrating them.)
Sailhac's Cassoulet
Where: L'Ecole
Price: $34 a la carte, or a $7 surcharge to prix-fixe
The bad news is that L'Ecole will close in the fall. The good news is that school dean Alain Sailhac's original cassoulet recipe is on the nightly menu, and it includes white beans, frankfurters, garlic sausage, braised lamb, and pork shoulder.
Prosciutto Cassoulet
Where: Benoit
Price: $31
Fun fact: Chef Philippe Bertineau is apparently the first and only American-based chef to be inducted into the Universal Academy of Cassoulet. Who knew? His version is comprised of traditional Tarbais beans, Toulouse sausage, pork, duck, and prosciutto.
Duck Cassoulet
Where: Sisters
Price: $16
This handsome new Clinton Hill restaurant offers an equally attractive cassoulet — with a grilled baguette on the side, for dipping.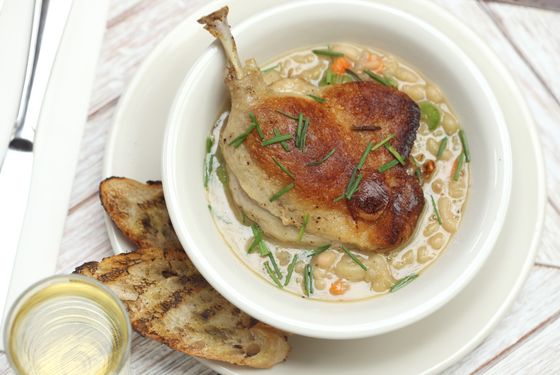 Pork-Belly Cassoulet
Where: Buvette
Price: $15
It's hardly surprising that Jody Williams serves one of the most impressive cassoulets in the city, made with confit chicken, pork, slow-cooked duck, and even pork belly.
"Cassoulet Bertrand Chemel"
Where: Lafayette
Price: $32
At Andrew Carmellini's French restaurant, you'll of course find a cool take on cassoulet — made with Tarbais beans, housemade saucisson a l'ail, duck-and-mutton confits, and pork trotters.
Smoked-Cauliflower Cassoulet
Where: The Library at the Public Theater
Price: $26
Or, you can hit up one of AC's other restaurants for a vegan version of cassoulet, which also includes white beans and sunchokes. The cauliflower's so smoky, you almost won't miss the meat. Almost.
Blood-Sausage Cassoulet
Where: Claudette
Price: $27
Chef Koren Grieveson's cassoulet has the usual Flageolet beans and duck leg, plus blood sausage.
Chicken-Leg Cassoulet
Where: Cookshop
Price: $28
And at this cozy Chelsea restaurant, you'll find a bone-sticking cassoulet with smoked-garlic sausage, chicken-leg confit, roasted pork belly, cannellini beans, roasted red onion, and seasoned bread crumbs.