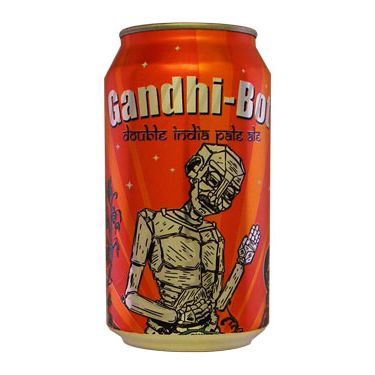 Nice font, too.
Photo: New England Brewing Company
The cheeky drawing of a shirtless and bespectacled robot that graces the label of New England Brewing Company's Gandhi-Bot has no doubt amused some drinkers since its 2010 debut. Others, however, are now pointing out that a metallic automaton version of the civil-disobedience pioneer and pacifist hero maybe, you know, shouldn't be used to sell beer. Sunkari Janardhan Goud, a lawyer in India, has filed a petition in Hyderabad that argues the "condemnable" graphic desecrates Mahatma Gandhi, a national symbol, and must be punished by Indian law. Also, he points out, Gandhi didn't drink.
The Connecticut-based brewery contends they meant no harm with their "fully vegetarian" India Pale Ale. "We apologize to any Indian people that find our Gandhi-Bot label offensive," reads a Facebook post that went up after Indian media contacted the brewery over the weekend. "Our intent is not to offend anyone but rather pay homage and celebrate a man who we respect greatly." Confusingly, they wrote that they had hoped their 8.8 percent ABV double IPA just wouldn't be "abused in the manner that Mahatma Gandhi spoke of when referencing alcohol," then added that the political leader's grandchildren have allegedly expressed "admiration of the label."
It appears as though the company plans to keep the design, which at the very least is marginally more tactful than the one that goes with "Albino Gandhi," made by Copenhagen's Bad Seed Brewery. That one seems to sport a zombified version of the icon.