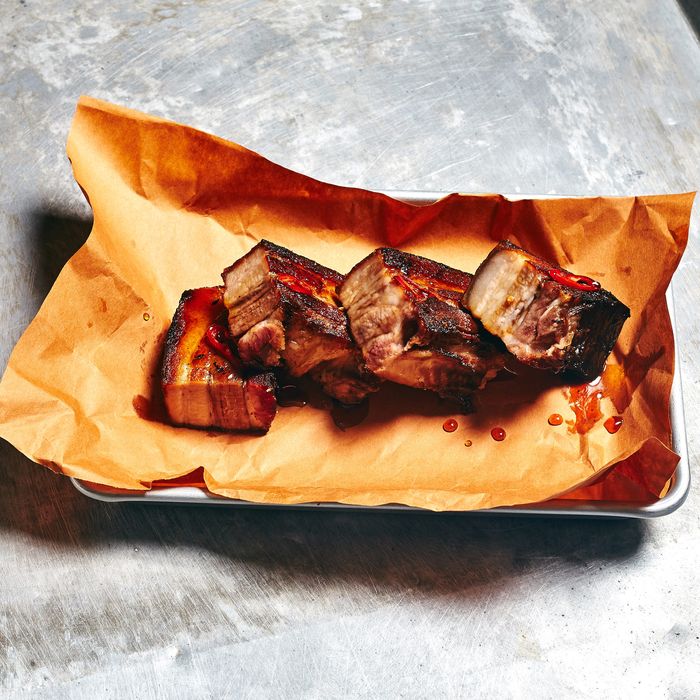 Cayenne-glazed pork belly by the hunk at Game.
Photo: Game
The roomy West Village space that was once home to Country Club, 2i's, and SNAP has now reopened as Game, a restaurant and bar that, just as its name suggests, is centered around sports. Self-taught chef Jesse Aghravi, who was chef de cuisine at Saul, is in the kitchen with Michael Tyler and Rufus Read, who both also put in time at the Carroll Gardens restaurant that has since moved to the Brooklyn Museum.
Game, which is officially game., seats 80 and 20 more at the bar, and in addition to the straightforward mission of showing playoffs, championships, and everything else with scores and referees on its 12 TVs, the partners have opted to restore the overly trended sports-bar menu to its default settings. Absent are the dainty slider trios, quesadillas du jour, and every last trace of truffle-oil-doused grilled-cheese sandwiches served elsewhere. These things have been replaced by burgers, dogs, and a lot of meat: The jumbo lamb ribs are pastrami-crusted, the smoked wings are dotted with raw serranos, and there's oxtail in the short-rib chili. Salad is served, as well as a pickle plate, but that's about it for the greenery.
The restaurant's just-as-spare cocktail list includes a tequila Old Fashioned and a vodka smash with mint and pineapple. Bottled beer includes Maine Beer Company's Peeper Ale, and tap options include a Kelso pilsner and Mother's Milk from Keegan Ales. Beverage director Michel Maleno, who worked at Aldea, has also put together a concise list of wines by the bottle and the glass. Aghravi says that plans eventually include serving food until 4 a.m., and that the chefs may get a little creative with the menu in the late-night hours, offering a lineup of specials and one-off dishes.
248 W. 14th St., nr. Seventh Ave.; 212-675-7236