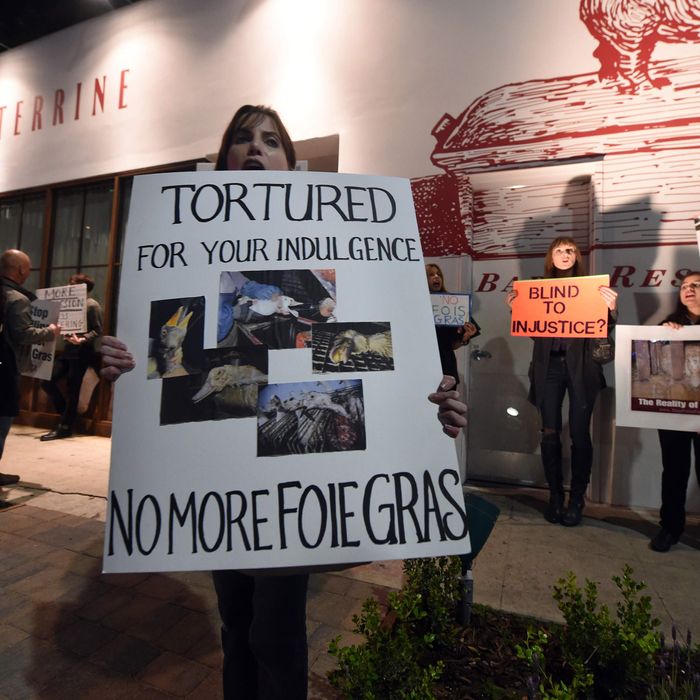 A recent protest outside Los Angeles restaurant Terrine that got out of hand.
Photo: Frederic J. Brown/AFP/Getty Images
There have been, by some counts, no fewer than 30 animal-rights protests in California since a judge made foie gras legal again earlier this month. Recently, in Santa Monica, just after 6 p.m., a small group of people met up at the corner of Wilshire and 11th for the 31st. Or 32nd. Or maybe it was the 29th. The number wasn't really that important.
The location was ideal, though. There was plenty of commuter traffic — rush-hour drivers entering and leaving the 10, even a good bit of foot traffic for Los Angeles. But more crucial was the fact that the entrance to Mélisse, a lauded restaurant specializing in "Santa Monica French cuisine," is on that block. The protest, however, was on Wilshire, while the restaurant entrance is on 11th. This was important, I was told by one of the organizers, because they didn't actually want to disturb business too much. "I don't even think they're serving foie gras tonight," said Cory Mac a'Ghobhainn, who was there representing the Total Liberation Crew Los Angeles.
"Do we have enough people to chant yet?" a man reaching for a sign asked Mac a'Ghobhainn. "If we do, we're going to keep it less like the last time," she replied. "People in there [she gestured to the windowless walls of the restaurant] aren't enjoying a six-course meal of foie gras."
"Last time" was a week earlier outside Terrine, where chef Kris Morningstar cooked up a special all-foie menu featuring a salade landaise with foie gras, beef stuffed with foie gras and wrapped in Benton's bacon, and a few "secret dishes to top it off" (featuring foie gras). Tempers flared and the vibe turned tense and sinister that evening, particularly after an AFP video crew departed and the sun set. A friend of Morningstar's came out to shout back at the protesters, but they surrounded her, crying out "Shame! Shame! Shame!" Here's a video of that confrontation. At the end, the man behind the camera asks the woman, "So if ducks don't have a gag reflex, do you? Do you have a gag reflex?"
Mac a'Ghobhainn did not want another Terrine. But she said the chef of Mélisse, Josiah Citrin, had "played his part in getting the law overturned." But while Citrin had played his part, it was a bit part. He'd criticized the ban since it went into effect in 2012, and had opened up his "personal stash" of foie gras for diners the day a federal judge struck down the state law. "I plan to have it on the menu as long as it's legal," he said at the time. Still, it was unclear if foie gras was or was not on the Mélisse menu the night of the protest. (I called the restaurant later; the night of the protest they were serving an appetizer course of seared foie with blood orange and daikon radish.)
At 6 p.m., when the restaurant opens, the dining room was hushed and quite empty. The first few diners to arrive walked quickly, furtively, into the foyer. "I didn't bring a sign," a new arrival outside said. "Oh, we have plenty of extras," Mac a'Ghobhainn told her and pointed to a line of them along the wall. People had been so fired up after Terrine they'd left their posters behind, which Mac a'Ghobhainn had saved afterward, for tonight and for the future. A typical sign read "Force Fed and Slaughtered for Your Indulgence" and featured a grisly, pixelated photo of a goose with a tube down its throat.
"So, what is foie gras?" asked a man walking by. Two of the protesters, Kathleen Truffaut and her friend Maria, put their signs down in front of them and talked to him for a few minutes. "Moments like this raise awareness," said Mac a'Ghobhainn as we watched this encounter. The man began nodding his head slowly, thoughtfully, as Truffaut explained how fatty goose liver is produced. Then the man began asking a lot of questions, and as Truffaut started to look a little flustered, he left. Another protester gave Truffaut a thumbs-up as he walked off. She shrugged. Turns out he'd only really wanted to talk about abortion.
I asked Mac a'Ghobhainn if there was such thing as a food moderate at these gatherings, someone who maybe ate certain sustainably farmed meat but had a problem specifically with the production of foie gras. "Oh, we're all vegan here," she replied. "That 'farm to table' junk, it's just publicity. I don't believe we have the right to take another person's life," she said. I told her I didn't disagree, but she corrected me. "No," she said, "when I say 'person,' you're thinking of us and still seeing things as things, animals as things — but they are persons."
Another protester Karen Manfrede told me that, really, in some ways, she was against this issue as a protest, because it complicates things. I asked what she meant, and she told me that the problem was people who put foie gras on some other level, thinking of it as worse than any other animal product. "It confuses the issue," she said. "Any dairy and eggs and meat — it's causing suffering just for your own pleasure, it's no different than dog fights." She'd lost me, and I told her so. She gave me a weary, pitying look. I was as guilty and bad as the rest.
Soon, yet another new arrival showed up. "This is the crew," she said, grabbing a sign and jumping to the curb. Back toward the restaurant's entrance, some chanting had begun: You must, you must, you must understand/ The blood, the blood, the blood on your hands/ Blood blood blood on your hands!
As the chanting grew and a crowd gathered near the entrance of Mélisse, a man walking by in a Venice Beach T-shirt, short shorts, and running shoes (impossible to tell if he was working out or if this was his L.A.-evening wear) responded to the chanting with his own. "We have no purpose in life! No purpose in life! No purpose in life!" he wailed in a high-pitched moan. The police arrived, and the man walked over and asked if he could file a noise complaint.
"We're happy to have the police here," Mac a'Ghobhainn said. "It ensures things stay nonviolent. Not that we're violent! But others around us." The whiny man stormed off. "Good luck, you guys," he said, shaking his head. The chant turned to: How do you sleep at night?/ For the animals we will fight!, followed by a call-and-response ending in Mélisse, go to hell!
"If you start chanting all at once, it might start to be a problem," one of the officers told Mac a'Ghobhainn. "And stay close to the curb, where the cars can see your signs better," he added, then walked inside the restaurant, where it was hushed and calm and everything going on outside sounded like nothing more than a low, distant murmur.