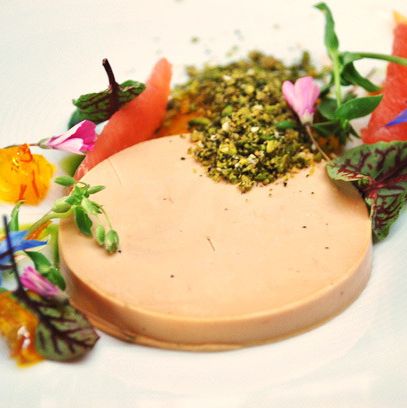 Micah Wexler's foie gras terrine at Hollywood restaurant Mezze, which has since closed.
Photo: Mezze
The ban on the sale and trade of foie gras, the luxury product made from duck livers enlarged by a process of force-feeding, has just been overturned in federal court. The details of the legal development will no doubt flummox animal-rights and welfare groups everywhere, but dozens of chefs have been euphorically tweeting the news. A lobbying group involved with the case says that U.S. District Court for California's Central District Judge Stephen Wilson ruled that the ban "went too far and encroached upon the domain of federal law."
Since July 1, 2012, any chef who wanted to serve foie gras in California had to get crafty with menu descriptors and sneaky promotions, such as giving away rounds of the controversial duck liver as a free side-order. Previous efforts to overturn the ban, which also outlawed in-state production of force-fed duck and goose liver, ended in failure. Three judges in federal appeals court unanimously upheld an earlier decision in 2013, and last fall, a group representing businesses in 13 states refocused on the constitutionality of interstate trade laws and importing the fatty organ from out of state. At the time, an attorney for the pro-foie constituents trying to get the case heard but the Supreme Court said the implications of the constraints were "an issue of extraordinary national importance."
The latest challenge came from a group that included Hudson Valley Foie Gras, a producer. The plaintiffs did not focus on issues of animal welfare — the bill's 2004 origins denounced the process of "enlarging the bird's liver beyond normal size" through the force-feeding technique known as gavage as inhumane — but instead questioned if existing regulatory rules could apply to gavage. Interestingly, the California's welfare-oriented ban on battery cages for chickens just went into effect on January 1.
European producers of the delicacy have also been targeted by animal rights groups in recent years. In 2013, a video comprised of segments shot at five farms in France depicted dead and injured ducks with open wounds. Shortly after it was made public, Gordon Ramsay dropped the supplier, and Joël Robuchon followed. Last month, a activist's video shot at another supplier's farms led Heston Blumenthal to sever ties with the company. The issue remains controversial.
Shortly before the 2012 ban went into effect, Grub Street marked the occasion with a veritable glut of the best foie gras dishes in New York, San Francisco, Los Angeles, Chicago, Boston, and Philadelphia. If you've been missing the high-end stuff, you'll no doubt want to take a look through the galleries.
There's no word on the exact timeline for foie's full-fledged return to restaurant kitchens, but chefs and industry figures are overjoyed:
We won !!!!!!! Foie gras ban is overturned in California!!!!!!!!!— ArianeDaguin (@ArianeDaguin) January 7, 2015

GREAT NEWS about Foie Gras coming shortly!!!!!!!!!!!!!!!!!!!!!!!!!!!!!!!!!!!!— Douglas Keane (@douglaskeane) January 7, 2015

Federal court just overturned the state court making it immediately legal to sell foie gras in CA @michesf @NorthForkd @forkmespoonme— D'Artagnan (@DArtagnanFoods) January 7, 2015

THIS JUST IN: Courts have decided that foie gras is legal again in California!! #theworldmakessenseagain #FoieGras #happyday— Pacific Gourmet (@PacGourmet) January 7, 2015

The California foie gras prohibition is apparently at an end, a US District Court judge has overturned it. More details as they come.— Russ Parsons (@Russ_Parsons1) January 7, 2015

Now that #FoieIsLegal - look out for the return of our Foie Gras ice cream sammies #StayTuned pic.twitter.com/sCyojon3i3— humphryslocombe (@humphryslocombe) January 7, 2015

@eatersf @Eater toMorrow Free cotton Candy Foie Gras to All!!!! @BazaarLA @SLSBeverlyHills just stop at the door from 5 to 7!!— José Andrés (@chefjoseandres) January 7, 2015

Word that the state's foie gras ban has been struck down is making for very happy SF chefs. La Folie will have it on the menu tomorrow.— Mike Simpson (@MikeSimpsonKGO) January 7, 2015

I have had a "gift" on my menu ever since foie gras was banned. I guess it is time to change the name of the dish. #FoieGras— Jesse Mallgren (@madronachef) January 7, 2015

@GarySoup Gary did you hear about foie gras IM SO HAPPY 👬⬅️that's us— Hapa Ramen (@haparamen) January 7, 2015

Foie Gras is legal again in California. On the menu tonight. #FoieIsLegal— Ken Frank (@ChefKenFrank) January 7, 2015

Feel bad for all the cats that arent going to be dining on the good stuff anymore! Foie Gras Ban Repealed Eater SF http://t.co/gk9GUsK0kZ— Chef Ben Ford (@ChefBenFord) January 7, 2015

* This post has been updated throughout.