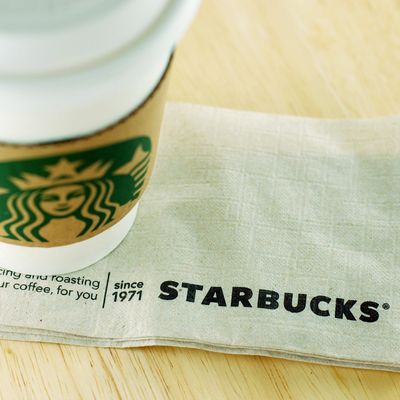 Hooray for zero-ply napkins!
Photo: mangpor2004 / Shutterstock.com
A new study conducted by the nonprofit group As You Sow asserts that no major players in the fast-food or fast-casual market are observing best practices when it comes to implementing green packaging materials and minimizing total waste. Of the more than 16 companies analyzed, which included Chipotle, Panera, Wendy's, and Domino's, Starbucks emerged as a contender for "top recycler."
Although a mere 39 percent of stores had front-of-store programs to receive recyclable materials in 2013, the Seattle-based coffee chain has endeavored to cut down on paper-cup use and single-serve disposable cutlery, and in general was found to have a better track record than its peers. Dunkin' Donuts, which can no longer legally sling foam-cupped Dunkaccinos in NYC, says it'll commence phasing out the environmentally unfriendly material in 2016, so it's getting there. Meanwhile, Pret a Manger was the only restaurant chain to offer recycling at all of its restaurants.
It hasn't really been McDonald's day — or week or month or even its year — but the chain emerged in the report as a relative winner for eliminating foam completely and making the switch to a higher volume of recycled content in its cardboard clam-shell containers. Arby's, Quizno's, Burger King, Wendy's, Jack in the Box, Dairy Queen, Domino's, and Papa John's all received a "Poor" grade in the nonprofit's report. Lead author Conrad MacKerron says every major player has a long way to go. "Ultimately these are still really weak examples of leadership," he told the International Business Times.
[IBT]