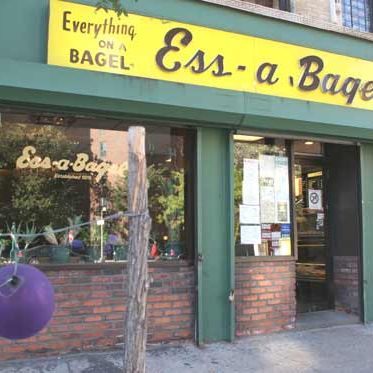 Maybe they'll bring the old signage back.
Photo: Shanna Ravindra
Ess-a-Bagel, one of the few remaining bagel shops in the city where customers can actually smell the bagels cooking in the morning, will in fact close its original location and move into a new spot "down the block," the business tweeted. Late last week, owner David Wilpon depicted a grim situation with the lease arrangements at his 39-year-old store, and a kind of standoff with his landlord. Wilpon blamed a death in the family for disrupted rent negotiations last fall, and told a neighborhood blog that Ess-a-Bagel would be ousted from its decades-old home by the end of the month. A spokesperson for the Gramercy property owner disputed the story, saying:
"When we purchased the property, our main priority was to keep Ess-A-Bagel as a tenant. Ess-A-Bagel is a tradition in this city and we had no desire to see them leave. In the three years since, we've bent over backwards to come to a mutually fair agreement with Ess-A-Bagel's owners. Our offer would have allowed Ess-A-Bagel to remain — and even gave them the option to expand — in the space they are in currently. Unfortunately, it takes two sides to make a deal, and Ess-A-Bagel's owners repeatedly refused to meet us between their below-market rent and current market value. We regret that Ess-A-Bagel chose to misrepresent our intentions in the press. We take our responsibility as landlords very seriously and worked diligently to keep Ess-A-Bagel as a tenant. At a meeting in September, Ess-A-Bagel confirmed they were actively negotiating a lease at a new location. We wish them the best of luck in all their future endeavors."
A new bagel shop and a bank are rumored to be replacing the original Ess-a-Bagel, which also has a location nearby on Third Avenue. Any negotiations have apparently stalled, and Ess-a-Bagel tweeted over the weekend that it and its "delicious hand rolled bagels are just moving down the block." Gothamist reports that the bagel shop's lease terms have not yet been finalized.