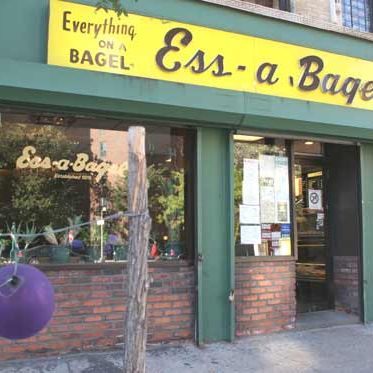 The 39-year-old shop needs a new home.
Photo: Shanna Ravindra
The owner of Ess-a-Bagel, the venerable Gramercy store with "playfully gruff" service and a staggering array of smoked fish, has just a few weeks left in business in the building that has been its home for 39 years. David Wilpon tells Town & Village that his landlord declined to renew his lease, and along with Rose Restaurant and Grill 21, he'll have to find a new home.
"There's a lot that's up in the air," Wilpon tells the blog, adding that he is looking to relocate the original store but is still hoping to negotiate. (Its Third Avenue location will remain open.) The bagel shop proprietor explains that his troubles began in 2013 when his aunt, Ess-a-Bagel's founder, died. Lease negotiations were going on at the time, he says, and the landlord later claimed the family was not communicating "in a timely fashion."
Wilpon and Henry Beck, the proprietor of Grill 21, say that a Bank of America and another bagel store will replace Ess-a-Bagel.
Update: The store has confirmed it will move, and East 21 Retail LLC, landlords for Ess-A-Bagel, refuted Wilpon's account of lease negotiations.
[Town & Village via brianvan/Twitter]