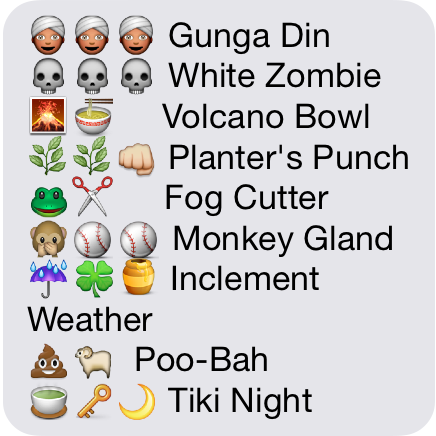 Red Hook café and bar Fort Defiance keeps the Sunken Harbor Club, its tropical tiki night, going throughout the most frigid depths of winter. Bizarrely, in fact, those Fog Cutters and Planter Punches seem twice as festive and all the more potent whenever the wind whips up Van Brunt Street and the temperature dips below 20. For tomorrow night, owner St. John Frizell and his team rendered the menu into an emoji format, a task that was probably tougher than it looks but seems entirely appropriate considering the Zeitgeist and all, and, well, the existence of stuff like emoji-sexting glossaries.
The only problem we foresee here is that customers will probably need an extra order of fried wontons while they try to figure out what the smiling Pile of Poo paired with the Ram is supposed to mean. (It's the Poo Bah — get it? — straight out of the 85-year-old Savoy Cocktail Book.) There are eight in all; how many can you decipher?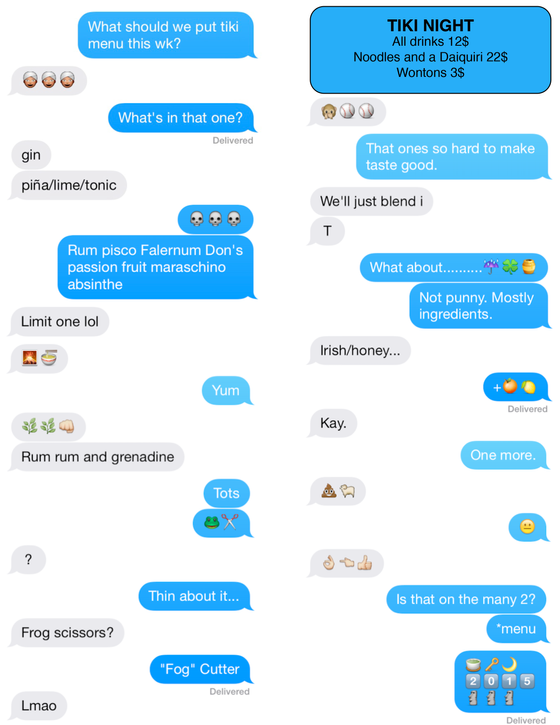 The team helpfully lists some of the ingredients under the emoji for the less obvious ones — you may have already guessed that the primate and the twin baseballs are telegraphing the Monkey's Gland? Somewhere in tiki heaven, Don the Beachcomber is laughing, or maybe sexting a friend. Regardless, a compact version of the pictograms is here, while the full key is below.