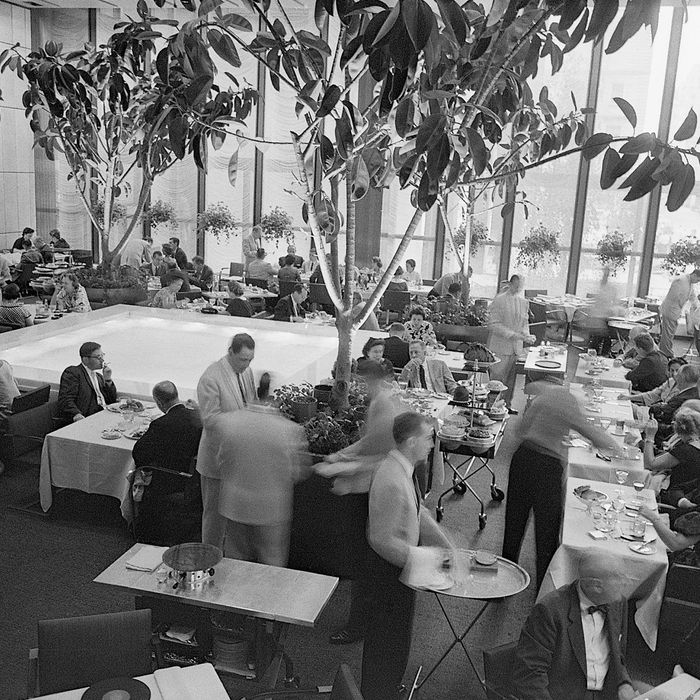 Seriously, though, those crab cakes.
Photo: Bettmann/CORBIS
Like the aging executives who still partake in the practice, the "Power Lunch" is slowly dying. The Times reports that the days of media deals cinched with handshakes and $58 crab cakes at The Four Seasons are kaput, elbow-rubbing with Les Moonves and plowing cutlery through nondescript beet salads at Michael's, too. Instead, writer John Koblin argues all the young media players are brokering deals at food trucks, taking meetings over bathwater-temp lattes at Le Pain Quotidien, or, worse, toiling away in front of screens with aïoli trickling onto their trackpads. Gil Schwartz, the CBS executive and author, says it's downright dystopian. "To give people a feeding time of 10 minutes so they can cram down a sandwich at their desk, it's like something out of Brave New World or 1984," he said. This is nonsense.
The idea of power lunches has always implied the existence of unempowered lunchers, but why on earth would anyone actually want to go to Michael's or The Four Seasons to jockey for a seat among the elite? As much fun as it is chumming around with some random banking titan or mid-level oligarch, there are now infinitely better lunch options than warmed-through beluga lentils and the carbon copy chopped salads that haunt midtown's waning fine-dining rooms. You can get a bagel from Black Seed with lox and horseradish cream cheese or one of Danny Bowien's super burritos delivered. You can sneak away from work for 45 minutes and eat a French dip at the bar at Minetta Tavern. Endure the line at Sweetgreen and you can get a kale Caesar with leafy greens grown by a farmer in Dutchess County. It may seem cliché, but it's also a righteous thing when the salad costs $8.85 instead of $30. (It no doubt tastes better, too.)
There's more: A recently upped lunch game for some companies means superlative barbecued brisket, giant meatballs, griddled arepas, pulled pork tacos, jumbo cupcakes, grilled medianoche sandwiches, and plenty of other choices. Momofuku's David Chang, who already makes bento boxes for the company WeWork, has co-founded a company that will combine algorithms and excellent culinary technique to bring hot, delicious food to Manhattan addresses within 15 minutes, at a cost of $12-15 per meal, all-inclusive. It's a vast, ambitious experiment. It launches next year.
And, hey, this kind of next-level lunching helps restaurants, too: Manhattan's sky-high, rent-related real estate woes are very real, and opting for a delivery of tacos or sardine tartines from a small, independent restaurant during the middle of the day makes a huge amount of economic sense. The cooks are doing prep, the ovens are on; get two orders of Sichuan wontons in chile oil delivered at a time when Hot Kitchen's dining room would otherwise be half-empty and you're helping to pay the rent. For all the techie pageantry that comes with our new wave of delivery services, work lunch has become one of the most unshowy, unpretentious ways to commit to the city's food culture, even if that does mean a few crumbs in our keyboards.
[NYT]