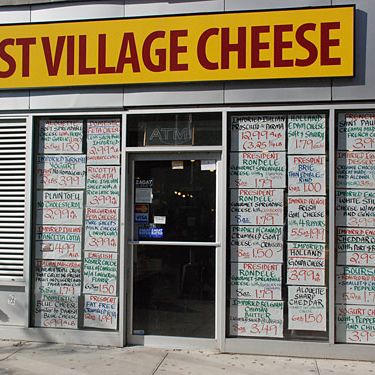 It can't Brie.
Photo: Corinne Durand
The half-pound minimum and no-samples rules have been in effect at East Village Cheese for more than four decades, but that has never deterred the tiny shop's fans, who swear by its bargain raclette and discount wheels of Brie. A tipster tells EV Grieve that the business is in danger of closing, likely because of the Duane Reade on the corner, which is expanding.
The block of retail stores at 30-46 Third Avenue has already sustained casualties, including a clothing shop and convenience store on either side of the busy cheese shop. The owner of the frame shop next door says he found out last month that his lease will not be renewed; East Village Cheese is the last store standing, and the handwritten signs crowding its windows advertising deals on Camembert, Bulgarian feta, and local butter pop out like an anomaly on a block with chain drugstores, organic-juice emporiums, and a mobile-phone superstore.
Four years ago, our sister site the Local profiled Thubten Tenphel, one of two Tibetan refugees who bought the business from former owner Alvin Kaufman in 2005. Mastering the inventory initially posed a challenge, he explained, especially because they were former monks unaccustomed to high-end triple-crème cheeses and mini-Bries. "It takes getting used to," Tenphel said, "but now we like it."
Update: A manager says the shop will close by the end of July. Its owners plan to reopen in new location.