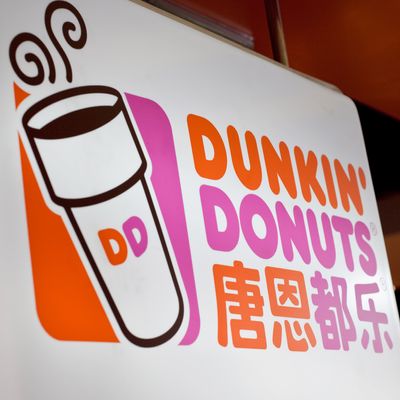 Will they have Munchkins, though?
Photo: James Leynse/Corbis
Unacceptably, there are just 16 Dunkin' Donuts right now in China, or about one for every, oh, 85 million citizens. To remedy that, the coffee-and-doughnut purveyor that's lately been on an aggressively expansion tear says it's inked a new deal over the next two decades with a Chinese franchisee, Golden Cup Pte. Ltd., to flood the country with an impressive number of locations. This is in addition to another franchise agreement struck last year for about 100 more stores in eastern China.
But there's more, empire-building-wise: The chain has more imminent plans to (re-)invade Mexico. It announced Monday that a hundred stores will be popping up in Mexico City and across five other central and western Mexican states in the next couple years. It actually had about that number there during the aughts, before terminating the previous franchisee's contract in 2009.
This news comes mere months after a smaller, 64-store addition in southern California, which until last year remained one of the few states that don't run on Dunkin'. On the international scale, the week's duo of announcements means the chain's 3,200 locations worldwide will grow by half that amount, at minimum, although CEO Nigel Travis has said he's really hoping for more than 30,000, eventually. Let Dominique Ansel have Japan — it looks like a wide new world for the Croissant Donut. Maybe even the pizza bagel, too.