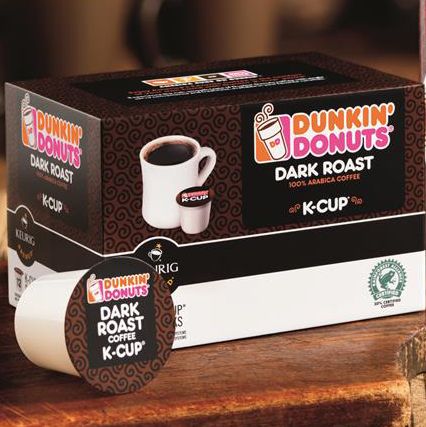 Even the trendy new "Dark Roast" flavor flopped.
Photo: Dunkin' Donuts
Against pretty much all odds, Dunkin' Donuts has triumphantly pioneered a way to not sell K-Cups to Americans whose waking states essentially oscillate between a pre-caffeinated haze and Keurig-single-serve-loading frenzy. In all other markets, the K-Cup has been a de facto golden-pod-laying goose, with sales up 13 percent for the latest fiscal year, but somehow the fast-food chain says it managed "double digit negatives" last quarter, CEO Nigel Travis told investors this week.
Industry analysts blame Dunkin's weirdly ineffective marketing strategy. Most competitors sell K-cups almost anyplace that will take them, as this "Bit of Everything" Amazon 40-count sampler pack filled with everything from Tootsie Roll-brand hot cocoa to Guy Fieri's illustrious coffee line demonstrates, but other than a limited online presence, Dunkin' refuses to broadly market pods outside of its own stores, out of the fear it will end up "cannibalizing" sales.
Bagged coffee sales also recently declined, the chain tells Businessweek, and despite the big rollout of a dark roast, it's beginning to look like America isn't running on Dunkin' as much as it once did. Though the single-serve options represent a fraction of overall business, don't be surprised if the chain overhauls its drinks menu in the near future. After all, Dunkaccinos don't pair all that well with pizza bagels.