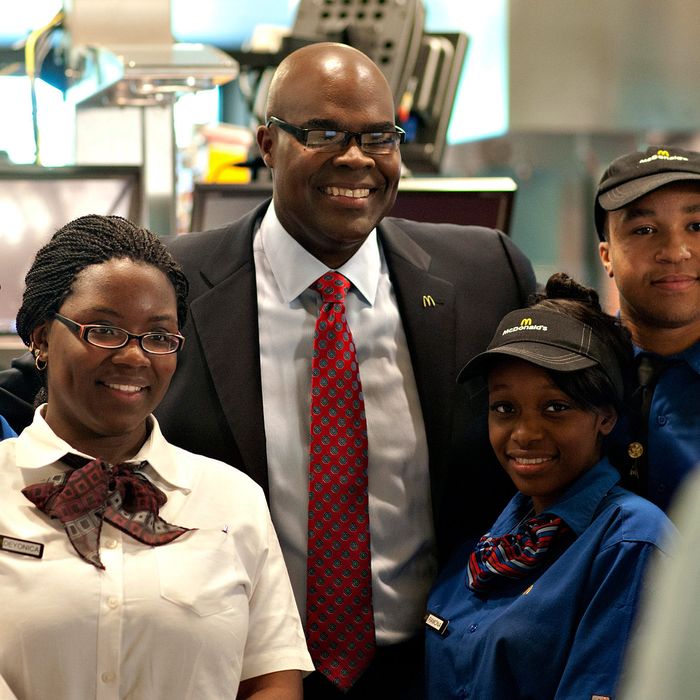 Better days.
Photo: Daniel Acker/Bloomberg via Getty Images
McDonald's has done the inevitable and canned its chief executive, Don Thompson. His final day will be February 28, at which point he'll pass not just the CEO reins but also relinquish his seat on the board of directors, according to an official statement. The announcement comes at what executives must hope are the last days of some trying times for the McBrand, which have included fry shortages, a scandal involving expired meat, human teeth, a rejection in Russia, and, of course, eight consecutive months of declining sales. Thompson's departure isn't exactly a surprise. "This has been something that people have been talking about for a while," an industry analyst tells Reuters.
The corporate office is already touting the glowing résumé of the new guy, Steve Easterbrook, the chain's chief branding officer: He revived McDonald's Europe in the mid-2000s, he's obviously a "brand expert," and his CEO experience elsewhere includes running much cooler restaurants — PizzaExpress (a U.K. chain whose jazz club has featured Amy Winehouse and Norah Jones) and Wagamama (a trendy pan-Asian ramen chain in London).
Thompson logged more than 25 years with the company. "It's tough to say goodbye to the McFamily," Thompson says in his statement that then invokes Ecclesiastes: "But there is a time and season for everything." That, apparently, also includes McWraps.