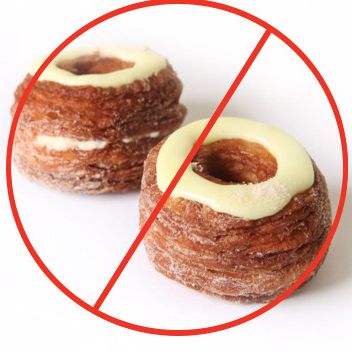 Stay gold.
Photo: Konstantin Sergeyev/New York Magazine
Stop the laminated dough presses: In addition to debuting a Tokyo bakery later this year, it turns out that Dominique Ansel will also open in the West Village, at 137 Seventh Avenue South in the short-lived Landbrot space. Notably, when it opens this spring, he tells the Times, there will be no Cronuts.
Ansel plans to make up for this with made-to-order madeleines and mille-feuilles. Long before he was a world-famous pastry chef and no one was talking about etching a likeness of the famous doughnut-croissant hybrid on a plaque the next time we send a Voyager spacecraft into the deep reaches of the known universe, Dominique Ansel put together fine-dining desserts at Daniel.
As these white-tablecloth things tend to go, those had multiple components, plated à la minute, and it looks like the chef is looking to imbue his next project with a little of this spirit. There's even going to be a "communal table for dessert tastings in the evening" that sounds more like a restaurant, which makes sense, especially because everyone is making their Cronuts at home these days, anyway.
[NYT]