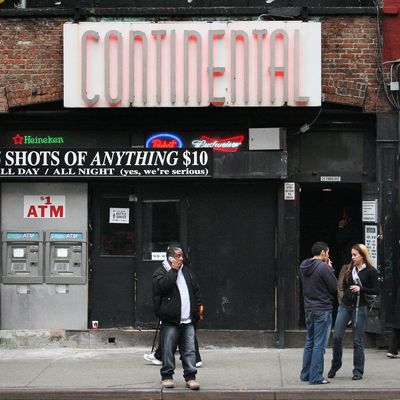 Taking shots on the house?
Photo: Shanna Ravindra
Call it the Continental divide: When news of the East Village dive bar's bankruptcy broke, reactions from the pickleback-connoisseur public seemed to fall into two camps: Many took to Twitter to reminisce about the punk and hardcore shows hosted there in its pre-2006, live-music days when Iggy Pop played, Joey Ramone was a regular, and hundreds of hopeful bands from the suburbs sent Smith their demo tapes. Others were more polarized by the place now best-known for selling any five shots for $10, with some alleging discriminatory door policies and a space inharmoniously "full of bros singing along to Eminem." Maybe chalk it up to a tale of two dive bars?
There seems to be a consensus among the pretty-broken-up-about-it contingent:
@Gothamist NOOOOOOOOOOOOOOOOOOOOOOOO! I have yet to have a night that I would later regret there… DAMN YOU HIGH RENTS! DAMN YOU TO HELL!— Nardio.net (@Nardionet) January 22, 2015

@EaterNY Used to see really good punk/hardcore shows here back in the day too— Phone Home (@PhoneHomeWays) January 22, 2015

#LRT .@EaterNY my youth!!— Van V (@yourbffness) January 22, 2015

@grubstreet a shell of its former shell but sad nonetheless.— frank l (@frankfacekillah) January 22, 2015

@grubstreet miss the way it use to be when they had shows— Bruce Spencer (@twogunz81) January 22, 2015

no way, one of my 1st jobs in NYC, so many memories! via @nymag Continental has filed for bankruptcy: http://t.co/S8CmQvoZZx— Victoria Bekiempis (@vicbekiempis) January 22, 2015

this is the worst day of my life MT @NYMag: Continental has filed for bankruptcy: http://t.co/5e5YpufGeQ pic.twitter.com/VzNYUgV27W— Heather Schmelzlen (@anchorlines) January 22, 2015

Heartbreaking - so many weekends there. http://t.co/paJziC3bPe— Roy Allen (@TSElliott2) January 23, 2015

rip continental rip being a dirtbag http://t.co/pAbPygmC9a— john (@strikeitup) January 23, 2015

As I've said before #nyc is changing. I used to play here back in the Cirkus FromHell days..#venue #realestate http://t.co/RSVRxrP8xg— Kore Rozzik (@korerozzik) January 23, 2015


While it's clear that not everyone was a fan of the bar:
I rarely cheer bar closings but this right here is a victory for good taste http://t.co/Uba0irVX3l— Linette Lopez (@lopezlinette) January 23, 2015

….I win! Finally…fuck this place! http://t.co/T0eegu0J9e— Rafael Martinez (@TheAntiNerdSays) January 23, 2015

FUCK YEAAAAAAAAAAAA!!!!!!!! RT @NYMag: Grimy East Village dive Continental has filed for bankruptcy: http://t.co/vRSsKRpRYv— Drazzel (@DonFeliu) January 22, 2015

Praise the Lord RT @NYMag: Grimy East Village dive Continental has filed for bankruptcy: http://t.co/vXUNeq1B6C pic.twitter.com/eDIjNFjNb0— Remy LeBeau (@JadCity) January 22, 2015

No love lost for Continental going bankrupt cuz they were pretty racist, but 5 shots for $10 was always nice. http://t.co/LCLJRnwHVu— Bhavin Bavalia (@bhbavalia) January 23, 2015

@codeinefolk @NYMag thank god, went in there and it was full of bros singing along to Eminem— cece hurtado (@thelittlekicks_) January 22, 2015

@EliEpsteinYO ha i tried explaining continental to friends this wknd, but apparently not well because they really wanted to go— Jill S. Heller (@jillsheller) January 22, 2015

when i was 17, the owner of continental bar told me and my friend that we looked like britney spears (this was on the street)— Becca Laurie, PI (@imbeccable) January 22, 2015


For those who don't want to choose sides, there is a sort of middle ground of not being particularly sorry to see it close, if it closes, and just allowing the faintest twinge of nostalgia:
Nothing gold can stay http://t.co/WQPMusgQx9— Steven Perlberg (@perlberg) January 22, 2015

Can't say I'll miss the Continental, but I do have memories. My drummer friend slamming his head into AC unit, e.g. http://t.co/KOPG3LIHWu— Dan Saltzstein (@dansaltzstein) January 22, 2015

Really? because 5 Shots for 10$ seems like a sound business plan http://t.co/TCLi3uWwkY— Chris Phillips (@chrisPcrittter) January 22, 2015