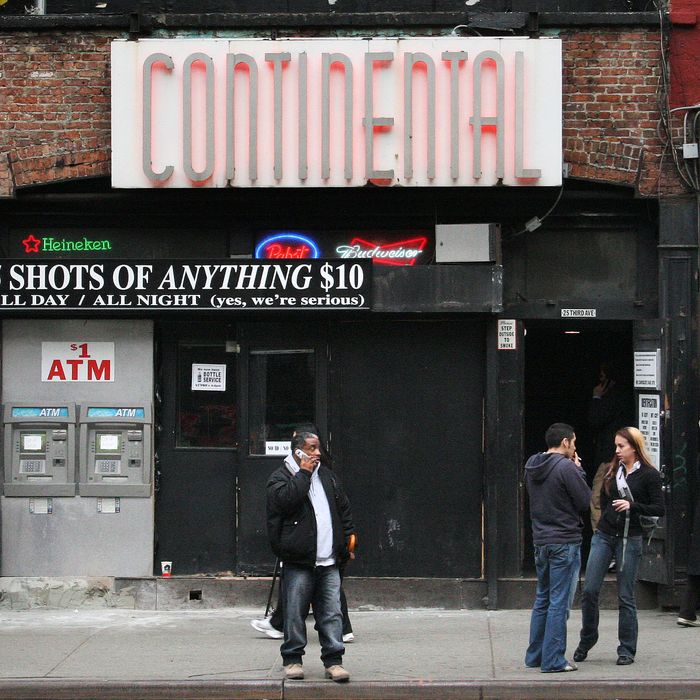 The place was done in by its own jukebox.
Photo: Shanna Ravindra
There are no such things as buybacks at Continental, not because of stingy house policy but because owner Trigger Smith liquidates all shots, at five for $10, during all opening hours. The borderline loss leader strategy is one of the Third Avenue dive's most endearing qualities and enduring lures, all of which is to say it's rotten to hear that Smith says the $49,762.96 he owes to his jukebox operator has pushed him to file for bankruptcy.
It's the second such maneuver of its kind since 2009, and now it'll take 24,881 picklebacks to pay the settlement, which has been forthcoming since 2006, the year the bar morphed from a performance venue into a more straightforward bar. In the '90s, the place was known as Continental Divide, and was a full-fledged rock venue where Joey Ramone was known to stop by and take in the chord changes.
Smith says he's doing "everything in my power to keep this bar going," which is good, because it certainly seems like the East Village is losing its crummiest, most venerated places. Manitoba's on Avenue B has also been imperiled by the cost of settling a lawsuit, its owner said last week.
[Eater NY]