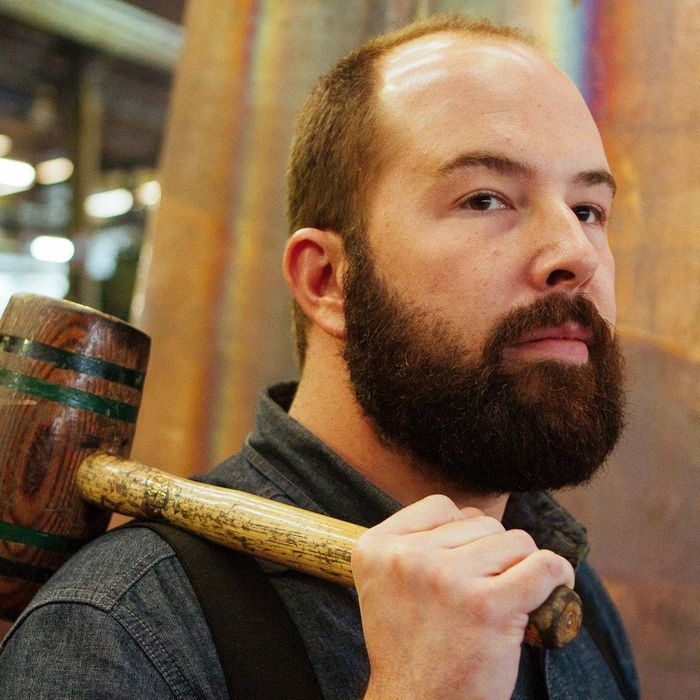 Tate is making six stills. By hand.
Photo: Chip Tate/Twitter
We're huge fans of Brimstone, the scrub oak-smoked corn whiskey put out by Texas distillery Balcones, which is why we were disheartened to hear about last year's struggle between head distiller Chip Tate and the company's board of directors. It was in the fall that chairman Greg Allen accused Tate, a self-taught upstart who has been a "whiskey prodigy," of threatening to burn the distillery down after a series of disagreements that threatened to destroy the company.
Tate was also alleged to have said "I should have put two in his chest" about Allen before his suspension and dismissal, but last month, after supporters launched a pro-chip hashtag and an attempt at negotiations, the distiller argued that he was merely "so startled when Mr. Allen burst into his office that he could have shot him by accident," the Times reported. Talks between the parties were eventually scuttled, and part of Tate's formal exit involved a noncompete agreement that prevents him from making whiskey until March of 2016. Balcones is back in stores after a temporary shortage, but any of the company's blends and single-malts bearing a date after August 5, 2014 were made without Tate.
The distiller is now starting over from scratch with Tate & Co., which will start off by working at an "American brandy tradition," whatever form that may eventually take. Tate says he will build six stills by hand and will work with Texas vineyards to grow "specialized brandy grapes" and other oddball varieties not usually used for wine; he also tells the Waco Tribune he's talking with peach and apple growers in the state. There's no word when, exactly, the first liquor will hit the market, but industry figures are already excited — a peer says he's "one of the few craft distillers who can really call themselves master distillers" — and Tate himself says he will also return to distilling whiskey when he is allowed to next year.