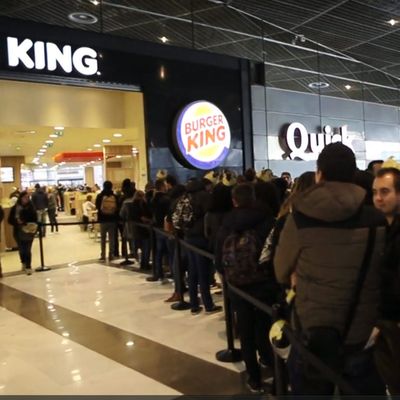 Oh no.
Photo: Dailymotion
Burger King left France in 1997, shuttering 40 stores and leaving behind a market of customers who were apparently ambivalent about flame-broiled things. The fast-food giant returned to the country in 2013, however, in an attempt to unseat McDonald's and gain 20 percent of the market, and much to the chagrin of fine-dining crusaders, one in every two sandwiches sold in the country is a hamburger as of last year. Now, thanks to a particularly aggressive social-media push, Burger King has seemingly put the final nail in the cassoulet coffin by giving out free food in promotional blitzes. They look something like this.
La file d'attente pour la pré-ouverture de Burger King a Lille… Mdr oui bien-sûr pic.twitter.com/e8YEUzB9Pu— جسي (@____Unbothered) January 25, 2015

Salut la big file du Burger King Lille ! pic.twitter.com/doQG2XReg5— Justine (@ladizju) January 25, 2015

Ouverture dans 50min et déjà du monde devant le nouveau Burger King à Lille ! #Burgerkinglille pic.twitter.com/ndD0NIDpXx— cheriefmnord (@cheriefm59) January 26, 2015

Une file d'attente de 200 personnes devant le Burger King de Lille http://t.co/MmJVkIzPEs - 7sur7 pic.twitter.com/lBELDXTCEz— LibreActus (@libreactus) January 27, 2015

As part of its new expansion tear, the chain sent out invitations to the Whopper-deprived to come and get reacquainted with the brand; in Lille it got more than 6,000 responses. Hundreds of customers queued up earlier this week to get free food. Some waited as long as 15 hours.
The chain says it plans to open as many as 400 stores in France during the next ten years, and the chain's franchise partner says its sales figures "already exceed" expectations. Just wait until France gets its first Shake Shack.
*This post has been updated throughout.