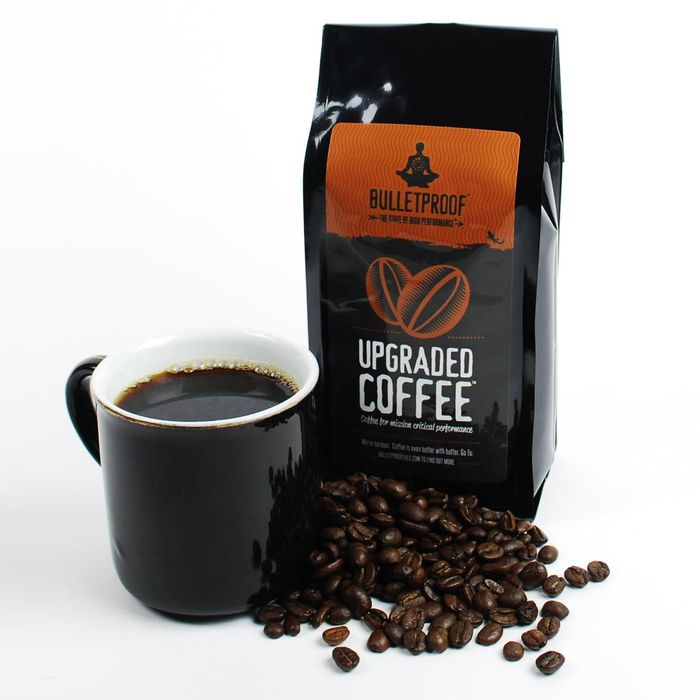 Bang bang.
Photo: Bulletproof Coffee
It's unknown why it's taken him this long, but Dave "A Stick of Butter a Day Keeps the Doctor Away" Asprey is finally giving the world a Bulletproof café dedicated to nothing but his "toxin-free" grass-fed-butter super drink that he discovered while in Tibet at 18,000 feet elevation in -10 degree weather. It will open, "coffee hackers" and all, in Santa Monica, and Asprey chose the L.A. area because his blog readers live there.
Brewing authentic Bulletproof® coffee requires doing a PDT-cocktail-level number of steps on some GNC-ish ingredients, so it's probably great, then, that the store will have automated brew machines that "resemble" French presses. Customers can then add a fatty upgrade of their choosing while standing on the Whole Body Vibration platform. A small seating area will feature furniture that is "connected to the earth."
Butter-infused coffee is supposed to be an energy enhancer that some use as a meal replacement, so a pain au chocolat isn't happening. Mysteriously, there will be "Bullet-approved" lunch menu items, though, so likely a lot of fatty, globby things whose health benefits Asprey espouses, like a serving of an avocado — or 30, the number Asprey requires for one of his trusty daylong meals. If that sounds good, the coffee guru says he's planning on turning the café into a chain.