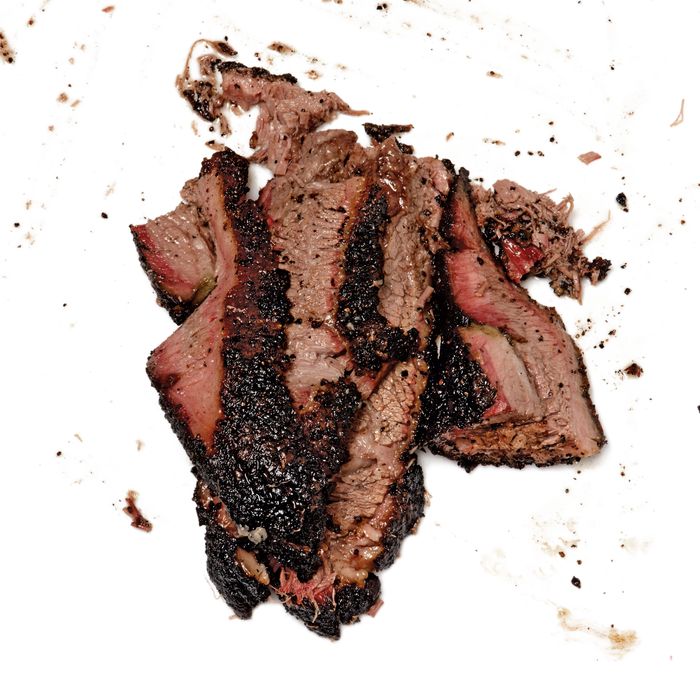 Save the brisket.
Photo: Jenny Westerhoff
It was exactly two years ago that demand for smoked brisket — up until then the hardest working beef cut to recur throughout the Texas barbecue belt — finally spiked up north in New York City, when LaFrieda meat man Mark Pastore noted a staggering "30 to 40 percent" growth in a year's time. This was in part owing to restaurants like Mighty Quinn's and BrisketTown championing hardwood-smoking in the city, a trend that later continued with Hometown and Morgan's in Brooklyn. Cut to the summer of 2014, when Arby's got in on the action and usurped the country's supply of brisket, which, combined with record drought and market tics has now made brisket nearly too expensive to serve.
Prices for the two most popular brisket cuts have surged; boneless, deckle-off meat in particular has just spiked with a record high average wholesale price. The situation has gotten so dismal that in Texas, some guy has systematically stolen $2,000 worth of brisket from supermarkets, presumably to sell to the trade on the sly, and a group of 20 prominent barbecue-restaurant owners gathered last month for the first time ever in a Texas A&M campus basement to discuss what they might be able to do about the escalating costs.
Worst of all, any would-be solution to our terrible, nascent brisket crisis is not as simple as passing along the increased meat prices to diners — Texas A&M professor David Anderson tells the Dallas News it'll be "three or four" years, anyhow, before prices return to earlier, lower levels. Inconsistency of the cuts is the real enemy of every pitmaster in general, so the scarcity of supply is by extension threatening the nature of good barbecue itself.
Any 12-pound slab in a delivery, the experts say, may require four pounds of fat to be trimmed before smoking, while the next butchered cut from the same batch may be way too thin to be rendered into a meaningful plate of candylike bark, layers of soft fat, and a prominent smoke ring. Essentially, exacting pitmasters say it's getting more difficult to do business as usual. "There's no sense in seasoning and cooking brisket that won't become brisket," says Louie Mueller Barbecue's Wayne Mueller.