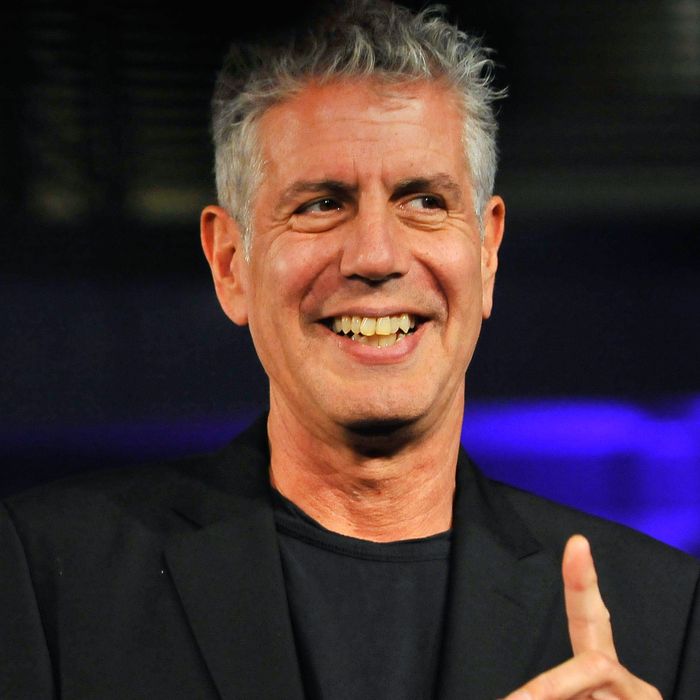 Bourdain says the venue will have "hundreds of options" each day.
Photo: Larry French/Getty Images
It was a year ago we learned that author, TV host, and former chef Anthony Bourdain had teamed up with entrepreneur Stephen Werther on an immense food hall set to open in New York City, most likely this year. The place would mash up Asia's stall-lined hawker markets and the old-school, architecturally stunning markets of central Europe, with some Blade Runner-esque flair thrown in for good measure. Bourdain and his people have spent a year reaching out to Mexican uni tostada sellers, goose basters, jamón ibérico slicers, brisket-smoking pitmasters, Hainese chicken rice experts, nasi lemak vendors, and more, and in general are working on recruiting around 50 vendors total, as well as guest chefs. Once completed, the place will have a distinct Singaporean, or Straits-Chinese feel, he says, but will feature a staggering array of global food.
The place will officially be known as the Bourdain Market, WSJ. Magazine reports, and Xi'an Famous Foods will be among its "hundreds of options." Restaurateur Jason Wang, who is about to open his largest Xi'an location yet near the Empire State Building, credits Bourdain as an early adopter of his growing restaurant chainlet, and says a No Reservations segment shot in Flushing kickstarted his rapid ascendancy.
The Bourdain Market, which now also has a Facebook page and a placeholder website, is still angling for a 2015 opening. A rep for the Parts Unknown host tells Grub Street its site has not yet been chosen.