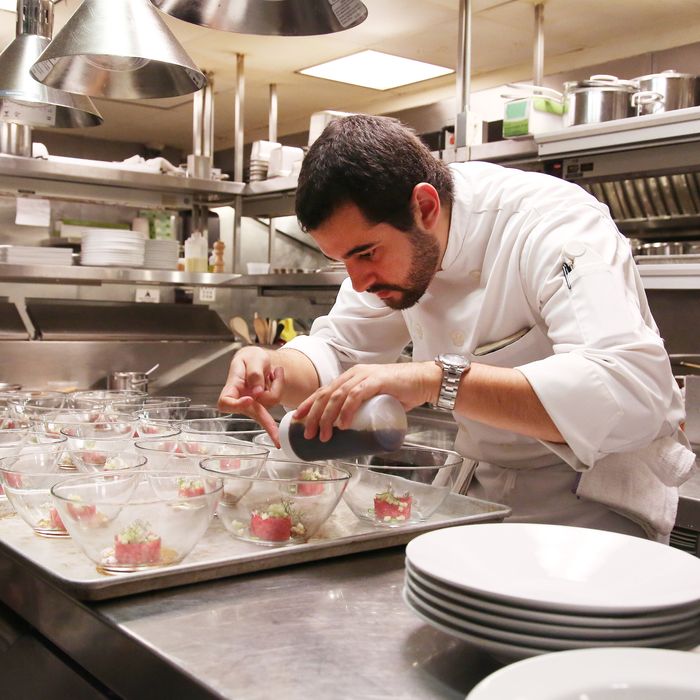 We're really doing stacked tuna tartare in oversize glass bowls, huh?
Photo: Bravo
Grub Street wondered way back in 2012 if America had officially exhausted its supply of cheftestants. Even still, each year brings a new crop of cooking-competition shows, all of which tend to share similar DNA. Top Chef took the basic Iron Chef concept — two cooks compete to make tastier food with a time limit in place — and added more chefs and different twists on the challenges. Chopped is like a cheap, quickie Top Chef. MasterChef is Top Chef with home cooks and Gordon Ramsay. Knife Fight is Iron Chef but apparently taped in a basement. And Beat Bobby Flay is like Knife Fight but one challenger is always Bobby Flay. Meanwhile, Top Chef, now in the home stretch of its twelfth season, is so larded up with product placement that it can feel like watching a repetitive, hour-long infomercial.
So Best New Restaurant, Bravo's new Tom Colicchio-hosted show, which premiered last night and is based on the British show Ramsay's Best Restaurant, at least promises to offer a new take on the very familiar formula: Instead of merely pitting cooks against one another, the show pits — you guessed it — entire restaurants against each other to see who provides "the best overall dining experience," with a strong emphasis on front-of-the-house service (during the first episode, Colicchio mentions the word hospitality approximately 8,433 times).
Of course, because this is TV, producers boil the entire process of running a restaurant down to its barest essence: The focus is the food, the service, how smoothly the FOH and the kitchen staffs interact (the premiere included much talk of spacing out order tickets), and a few fleeting mentions of decor. The first challenge of an episode sees Colicchio and crew stop into each restaurant for a "pressure test," which basically entails them observing a made-for-TV two-hour service with 30 diners at each place. There's a little middle section where Colicchio reveals that he's sent "secret" diners in with hidden cameras to see how well the restaurant performs when the staff doesn't know it's on TV, and a final challenge where the main players from the competing restaurants head to New York to cook and serve dinner at some nondescript restaurant location (basically a mini, streamlined version of Top Chef's "Restaurant Wars" challenge), all while Colicchio just sort of hangs out in the kitchen.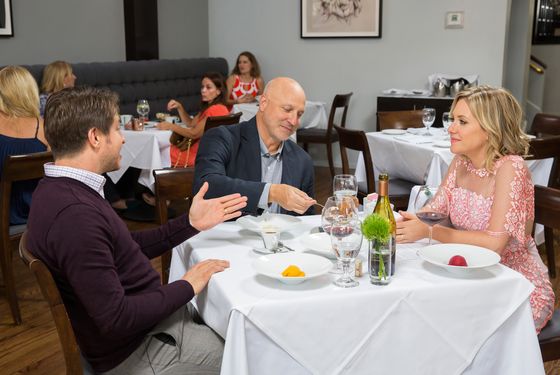 The first episode matched up Doma from Los Angeles against Dolce Italian from Miami — paired together, I'm guessing, because they're both kind of clubby-looking places that specialize in modern Italian-ish food. (Doma was no doubt also chosen because its head waiter, a guy named Igor, is so cartoonishly theatrical that I expected him to have a Birdman-style mental breakdown halfway through the episode.) Both spots came off well enough during the first challenge — though the rapid-fire editing, as required on shows like this, tends to amp up otherwise minor-seeming problems — and the secret diner segment added almost nothing since both places also performed commendably. During the final New York City face-off, both staffs again put together a mini-service that impressed the diners and Colicchio, with Dolce apparently edging out Doma because the former spot's manager, upon overhearing that a VIP diner — friend of Grub Street Baron Ambrosia — enjoyed a sweetbread dish, went back to the kitchen and got a few extra sweetbreads for the table to snack on. Doma's crew heads back to L.A., while the Dolce dudes — including a stoic chef who talks and acts like a bad guy in an old Die Hard movie — move on to the semifinals, where, presumably, new challenges await.
The show is not without its issues: The first problem is that Colicchio simply chooses the winner, with little indication of why or how the decision was made. (Were the bonus sweetbreads really the only deciding factor in this first show?) Decisions on shows like this are always subjective, but at least pretend like there's some sort of objective metric being discussed. The second snag is that the group of restaurants is glaringly limited — 16 spots from just four cities — meaning even though Colicchio says, ten seconds into the first show, that the competition is about finding "the country's best new restaurant," the show is not nearly that exhaustive, which I'm not really sure how you'd get around, logistically, but is nevertheless a hitch. Another drawback: Just as cooking competitions are perpetually dealing with the fact that people at home can't really taste the food — unlike singing shows where everyone can hear the contestants — this program also has to contend with the fact that viewers can't actually know what the experience of eating in a given restaurant is like, so there's a lot of exposition couched as analysis.
And yet, the increased emphasis on the importance of the FOH staff to an overall dining experience — at a time when people are increasingly learning to re-appreciate the significance of excellent service — still moves the cooking-show genre forward a bit, and creates a more interesting dynamic than a gimmick like using kids as contestants ever could. Best New Restaurant isn't blow-you-away fantastic, but it's entertaining enough that I suspect the clone shows, and the product placement, will arrive soon enough.