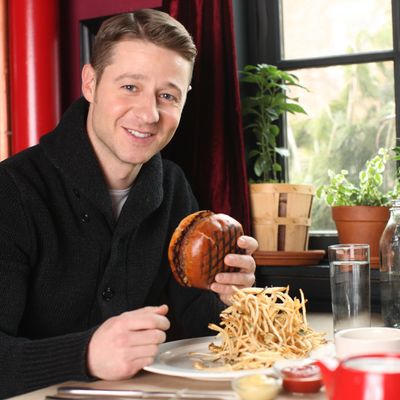 McKenzie at the Spotted Pig, one of his favorite restaurants.
Photo: Melissa Hom
Brought to you by
It's only been a few months since Gotham star Benjamin McKenzie — previously of The O.C. and Southland — moved to New York full-time. He grew up in Austin, eating lots of cornbread, and then spent most of his adult life in Los Angeles. But now McKenzie's intent on making the most of his time in the city — and that means semi-frequent bagel-and-lox intake, as well as checking out New York mainstays like the Dutch and Friedman's Lunch. But this week, because of his hectic filming schedule and the storm, his diet was more of a mixed bag — a chicken-cutlet pizza one day and a doctored-up chicken soup the next. Read all about it:
Thursday, January 22
I got breakfast at Cafe Grumpy: coffee and a pastry. Not a scone but a sweetbread kind of thing. Well, not a sweetbread. A loaf. I think it was banana bread. But I love Cafe Grumpy. The coffee is so good — and it's nice and chill in there.
I had a late lunch because we were up late filming the night before. It was a catered lunch on set. The catered lunches are quite good. We had a caterer at first who was not very good, and we upgraded! I believe it's Henri's Catering. I had some sort of protein and salad. I'm not an unhealthy eater, but I'm also not a disciplined eater. I have a hard time passing up burgers. What is life for if not good food and wine?
I didn't eat a proper dinner because we were shooting. I do tend to skip meals, which is a bit of a problem.
Friday, January 23
This was an exciting day! I have to do the whole bagel-and-lox thing at least once a month. I lived in L.A. for ten years, and I moved to New York in the summer, after the series got picked up. There's a Murray's right across the way from me in Chelsea, so I went there and got the #1: lox, capers, onions, everything. And then I had coffee and went off to work.
We were way out in Staten Island. I had a bunch of work to do super late, so I asked someone to run out to the mini-mall next to us, and they got Cousin's Pizza, which is a completely average pizza. I'll give them a shout-out! Is "average" harsh? It was completely acceptable! I requested pepperoni and barbecue-chicken pizza and they had neither. So I got some weird pizza that had breaded chicken — like a chicken cutlet — and a Margherita. But if you're ever far out in Staten Island, go to Cousin's!
Saturday, January 24
I went to Friedman's in Chelsea Market this next day. I had chilaquiles. I like organic-y-type meals that aren't super healthy. This was still fried tortillas and cheese and chicken. It was intense for a midday meal.
For dinner, I went to the Dutch, which I hadn't been to. I went with Sean Pertwee, who plays Alfred and is a friend of mine. We started with the cornbread. I grew up in Austin, and the jalapeño-cornbread thing, I don't know if it started there, but I've been eating it forever. My parents make a pretty good cornbread! I love it. We did an all-seafood thing: oysters, snow crab, kampachi, beet salad, and wine. No dessert — it was a bottle of wine.
Sunday, January 25
I had some coffee and Greek yogurt for breakfast in the morning. I went up to Albany to do a telethon for the Center for Disabilities Services. My lunch was a turkey club at the Hilton in Albany. I'll let that speak for itself. Actually, it might have been a Holiday Inn. There was turkey in it. There was bread.
I came back and I had dinner with another friend of mine at Cookshop. I got the raw-vegetable salad and sweet-and-sour duck wings. I can't remember what else I had. Oh yeah, fries. Lots of fries. And I had a Pinot Noir.
Monday, January 26
Breakfast was half a grapefruit at home. Then a latte from Starbucks, which is near where I live. When you've got to go, you've got to go. I went to set and got egg whites and bacon.
Lunch was catering: salmon, salad, rice. Delicious.
I do actually cook! You would not know it from this week. That was the night that it started to snow. They always terrify you with that stuff, which is absurd. People wanted Armageddon. I came home and the snow was really coming down, so I had to go with what I had in the kitchen, which was nothing. It was dried chicken soup — Alessi dried brodo di pollo chicken soup, which is actually perfectly acceptable. Actually, better than perfectly acceptable. Quite good! And then I shaved some cheese on it. It's a slightly smokey Italian cheese — Grana. A good hard cheese.
Tuesday, January 27
Grapefruit, coffee, and yogurt for breakfast.
We had the day off! It was a snow day. So I went over to Sean's and he made us a fantastic lunch: roast chicken, roast vegetables, gravy, and a salad with beets and goat cheese and greens and pine nuts. It was the perfect way to spend the day. A Sunday roast, except on a Tuesday. Quite a meal! And then a yogurt-fruit dessert. I brought a bottle of wine from a place in the Anderson Valley. I did a movie up there, and I like those wines a lot. On my days off, I went to wineries.
There's such a wide variety of foods in New York. It's more of an epicurean kind of place than L.A. People here indulge. I love it.