Shuko
Photo: Carolyn Griffin/New York Magazine
To make it as a chef in New York, it helps, of course, to be driven, imaginative, and a technical wizard in the kitchen. But for those ambitious cooks who strive to reach the top of the rarefied, increasingly tenuous world of elite New York restaurants, it helps, perhaps most of all, to have money. We're talking about other people's money, of course, the kind of seed capital that well-heeled investors and fat cats have traditionally sprinkled like fairy dust among the parallel, increasingly intertwined worlds of art, theater, and restaurants. Nick Kim and Jimmy Lau may not end up as superstars in the great New York dining firmament, but if you want a glimpse of what a few well-placed investment dollars can do, I suggest you take a seat at the bar of their impressive new omakase tasting room, Shuko, that opened not long ago on 12th Street, just below Union Square.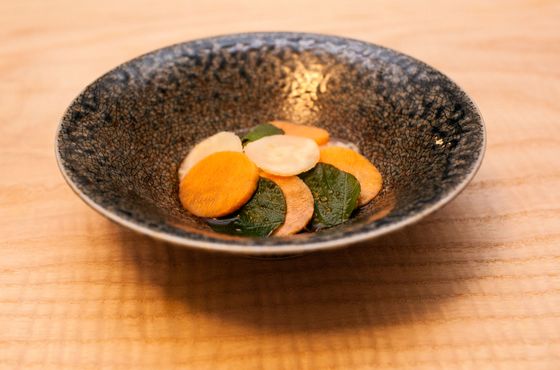 Kim and Lau worked together under Masa Takayama at Masa and, for a time, ran their own start-up sushi operation on West 8th Street called Neta. Several months ago, they joined forces with one of Daniel Humm's principal whale investors at Eleven Madison Park, and the result is their new enterprise, which is about as different from the one at Neta as a purring, high-performance sports car is from a slightly unreliable starter sedan. Unlike the cramped bar at Neta, the dining counter here, carved from ash, seats 20 people comfortably. At Neta, Kim and Lau slaved away with minimal staff, but now they're flanked by fleets of diligent assistants, including a bewhiskered, lumberjack-size gentleman who mixes exotic cocktails with ten-year-old Armagnac and Japanese tea, then spritzes them with plum-flavored eau-de-vie.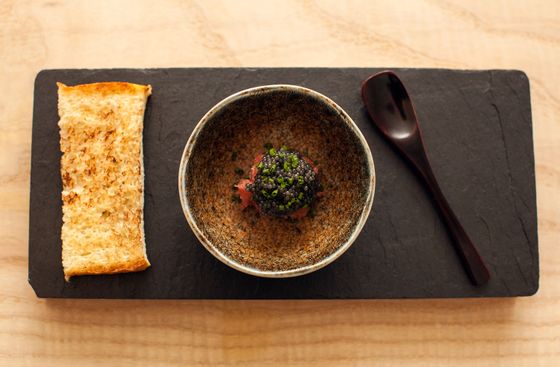 It's the ingredients, however, that tend to take the biggest bite out of the budget of any finicky, high-angle omakase operation, and at Shuko, no expense has been spared to track down the kind of trophy items that sushi snobs covet. On my visits, Kim and Lau employed two different kinds of uni (one from Santa Barbara; the other a deeply orange, creamy variety from Hokkaido) in their elaborate dinners, along with Osetra caviar from Russia, snowy strands of Dungeness crab flown in from the chilly waters of Vancouver, and wild mustard greens delicately plucked by a professional forager from the fields and hedgerows of upstate New York. Similar artisanal care is lavished on the in-house pickle program (an impressive variety of tubers are fermented in wood barrels in the basement), and even on the ice, which is delivered in Styrofoam containers from the famous Okamoto ice studio in Queens and carved into cubes at the restaurant.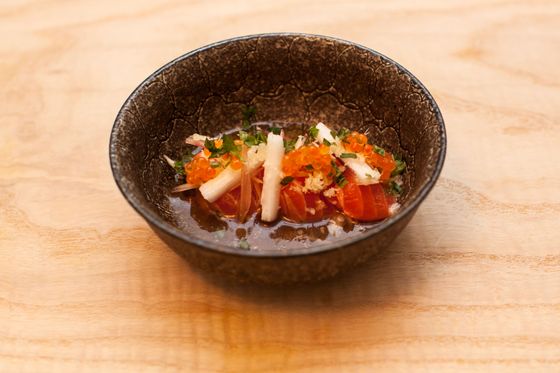 In the wrong hands, this kind of material can tip easily into the realm of parody and pretension, but working both sides of their spacious new bar with tag-team efficiency, Kim and Lau produce one of the best new omakase experiences in town. The non-sushi portion of my elaborate $175 kaiseki dinner included tea-sandwich-size slices of house-baked milk bread spread with Osetra and a thick scrim of the highest-grade fatty tuna belly tartare, velvet squares of sea trout (flown in from Tasmania, of course), and an artfully fried wheel of tempura constructed of various winter vegetables foraged from Greenmarket stalls in Union Square. There was also a lobster dish in their impressive opening salvo (mingled, I dimly recall, with sunchokes, white truffles, and bacon), and a soft, delicately gamy helping of roast quail breast from the Amish country that tasted like it had been prepared in one of the grander kitchens of Paris or Lyon.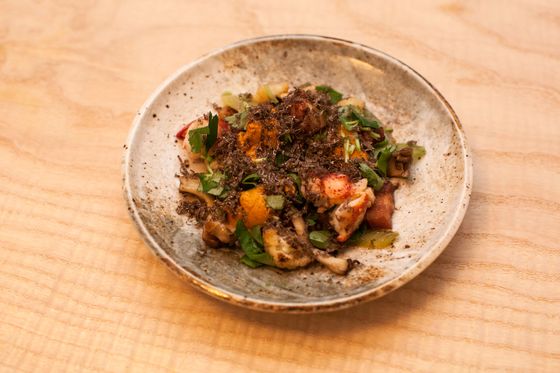 I'm betting that you won't find slips of pinkish silvery sawara (Spanish mackerel) anywhere in the vicinity of Paris like the kind Lau and Kim serve at Shuko, or pieces of smoky, melty grilled toro sinew, which the chefs wrap in toasted seaweed and garnish with bits of chopped Thai chile. Like at Neta, the sushi here is cut in the dainty, modestly sized Edo style, but the combinations are more inspired and the range of ingredients is wider. On my visits, I tasted two cuts of toro, a series of inventive "vegetable sushi" creations (pickled persimmons, fried sweet potatoes, crunchy pockets of matsutake mushrooms wrapped in toasted seaweed), along with forbidden, rarely glimpsed delicacies like cod milt (i.e., cod sperm, a.k.a. shirako), which the chefs purify in sake and white miso, fry in a light tempura batter, and garnish with disks of shaved white truffle.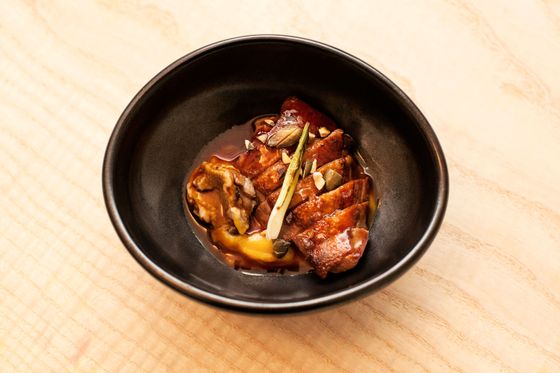 Like their mentor Masa Takayama, Lau and Kim employ these kinds of elaborate ingredients for theatrical effect (the counter at Shuko is already jammed with assorted Hollywood moguls and hedge-fund high rollers), and provided you don't hit the booze, dinner at this posh little establishment costs roughly five times less than one of the master's absurdly lavish sushi extravaganzas uptown. For the record, fried cod milt is less a taste experience than a textural one: a delicate crunch, followed by a brief milky sensation on the tongue, followed by, well, nothing. I washed mine down with a little sake, although the well-dressed ladies from Tokyo sitting next to me recommended a glass of rosé Champagne, which (also for the record) goes equally well with the dessert portion of dinner: a generous slice of Union Square Greenmarket-apple pie, freshly baked in-house and leavened with a touch of white miso.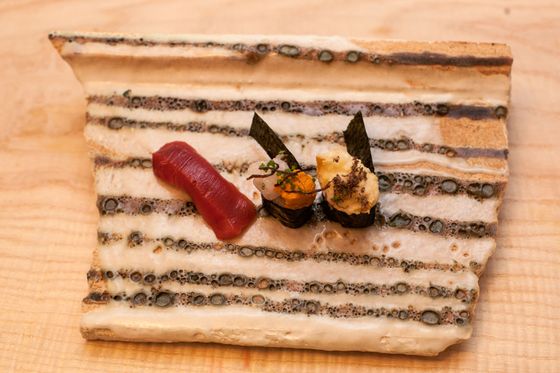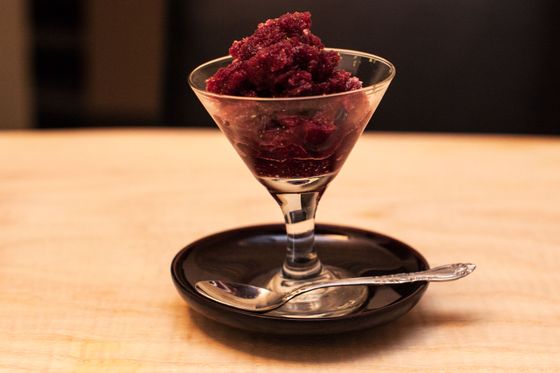 Shuko

47 E. 12th St., nr. Broadway; 212-228-6088; shukonyc.com

Hours: Monday to Wednesday 5:30 to 10:30 p.m., Thursday to Saturday till 11:30 p.m.

Prices: Kaiseki menu, $175; sushi-only omakase, $135.

Ideal Meal: There is a sushi-only omakase option, but if you have
the necessary resources order the kaiseki tasting menu.

Note: Like at any top-class omakase operation, these chefs have a large arsenal of off-the-menu delicacies to choose from, depending on the season and supply.
But proceed with caution, before the price of your dinner spins out of control.
Scratchpad: Two stars for the sushi quality and technique, and another two for the non-sushi portion of the kaiseki menu, the service, and the décor.
*This article appears in the January 12, 2014 issue of New York Magazine.