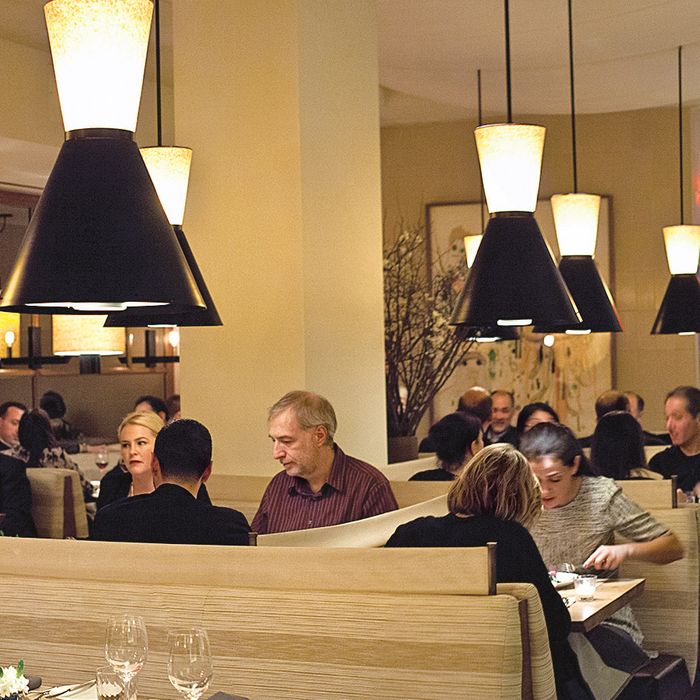 Little Park
Photo: Carolyn Griffin/New York Magazine
Over this past decade of more or less continuous fine-dining turmoil, few New York chefs have been as adept as Andrew Carmellini at synthesizing fashionable trends and translating them quickly into crowd-pleasing restaurants. With the exception of what our server described as a healthy obsession with "the seasonal and the vegetal," however, Carmellini's latest restaurant, Little Park, appears to be refreshingly trend-free. The room, off the lobby of the Smyth hotel in lower Tribeca (sadly, that's a trend), is decorated in blondish, woodsy tones, like at a popular restaurant in the hills around San Diego or L.A. The menu is simple and uncluttered, and the prices are unnervingly reasonable. There are no "to share" platters of pork belly or roast chicken for two (though there is kale), but you can get a decent burger at Carmellini's Evening Bar across the lobby.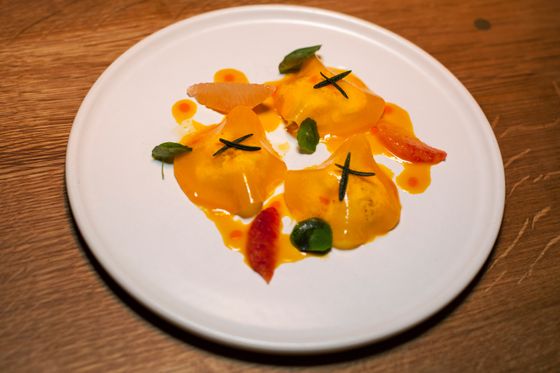 Little Park isn't an overtly trendy French bistro (like Carmellini's Lafayette), in other words, or a rowdy pasta bar (like Bar Primi), or a neo-Brooklynesque hipster joint (the Dutch). But as one polished little dish succeeds the next, the sense you get is that, with all these popular trends covered, this talented chef is taking the time, at long last, to cook for himself. The first things we tasted were some plum-sweet scallops from Peconic Bay, which are served in their fan-shaped shells atop a mound of crushed ice and dressed with shavings of apple. They were followed by rows of fresh fluke crudo (also from the local waters off Long Island) brightened with a crunchy relish of scallions and peppers, and a wheel of beetroot tartare leavened with toasted rye crumbs and a dappling of smoked trout roe, which was so satisfying that I ended up ordering it twice.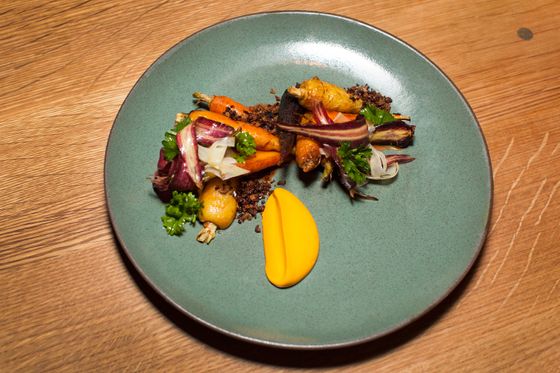 There are more than a few recipes like this on the menu at Little Park, and, to the shock of the unrepentant carnivores at my table, many tend to involve vegetables. I'm thinking of slices of salty-sweet butternut squash molded with a melting scrim of burrata cheese, and little heaps of Brussels-sprout leaves, which Carmellini and his chefs crisp around the edges and toss with pickled currants, more bread crumbs, dabs of smoked-parsnip purée, and a balancing splash of apple-cider vinaigrette. Kale, when it makes its inevitable appearance, is sautéed and stuffed into buttery oblong ravioli. You can enjoy these vegetal treats with bowls of well-executed risotto tinged purple with more beetroot and dusted with poppy seeds, tangles of whole-wheat spaghetti spooned with a rich pork ragù, and earthy, faintly burnt sunchokes that taste a little like a soft, comfort-food version of black truffles.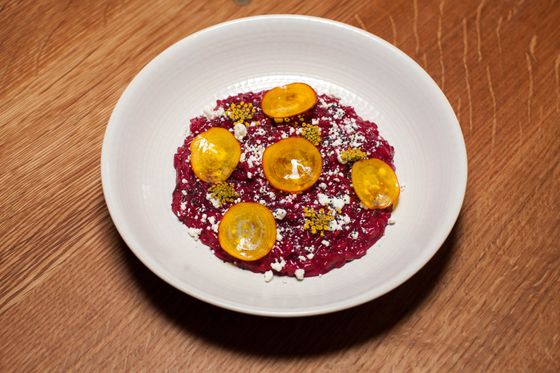 The kitchen could easily grind down over time under the weight of lunch and breakfast services, an ambitious bar menu, and the endless hamster wheel of room-service obligations. But right now you'd be hard-pressed to find a more delectably crisped duck dish in town (the pink slices are plated with red quinoa and crushed turnips), or a more inventive iteration of that old warhorse lobster in the shell, which is grilled, spritzed with tarragon butter and lemon juice, and served over a bed of flowering chives. The desserts are comforting but executed with a gourmet touch. Try the pear tart, the tangerine-grapefruit sorbet (topped with candied kumquat), and an addictive multitextured little creation called "Frozen Lemon Fluff Honey," which melts to a kind of tart, candied sweetness on the tip of your tongue.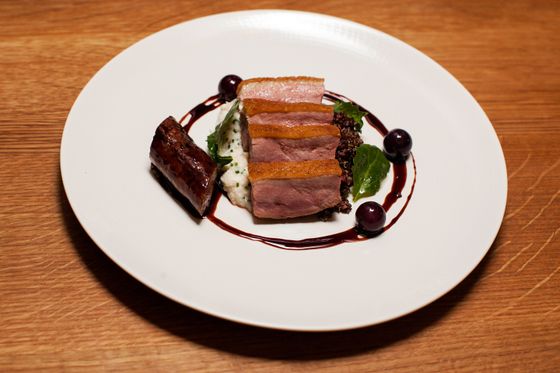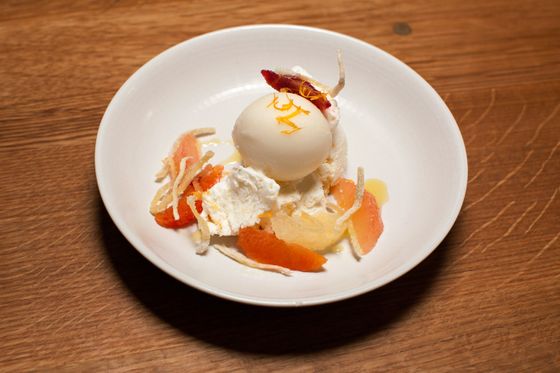 *******************
Justin Smillie would have us believe that Upland, the very fine new restaurant he opened with the mega-restaurateur Stephen Starr on Park Avenue South, is in some way inspired by the cuisine of his home state of California. The name comes from the town outside of L.A. where Smillie grew up, after all. The small foyer inside the restaurant's entrance is lined with decorative canning jars of preserved lemons (Upland has a famous lemon festival, apparently). The servers are all dutifully dressed in checked aprons, like in a rural country kitchen, and the big, brassy, somewhat generic-looking space ("I feel like I'm in the original California Pizza Kitchen," someone at our table said) features lots of painted-wood wainscoting and two decorative metal farm tubs planted with assorted flowers and wild grasses.
Luckily for us, this talented young cook's particular version of California cuisine passes directly through the hills of Tuscany and Rome by way of the downtown market restaurant Il Buco Alimentari e Vineria, where he made his New York reputation. Several of Smillie's signature Il Buco dishes show up on the menu here (chilled farro noodles loaded with sea urchin, a fine rendition of bucatini cacio e pepe, the legendary pepper-crusted short ribs for two), and each of them is worth the price of admission. You can bolster these old favorites with a variety of elegantly rendered seafood dishes (sweet-scallop crudo, nicely charred whole branzino), along with a small avalanche of enticing vegetable options, the most arresting of which is a crisp-fried hen-of-the-woods mushroom as big as a man's fist. If you grow weary of "the seasonal and the vegetal," call for Smillie's tender, crackling "porcelet" pork chop and complement it, for maximum trencherman pleasure, with an old-fashioned wedge of pecan pie for dessert.



Little Park
85 W. Broadway, at Chambers St.; 212-220-4110; littlepark.com
Hours: 5:30 to 11 p.m.
Prices: Appetizers, $12 to $17; entrées, $14 to $24.
Ideal Meal: Beetroot tartare, Brussels sprouts, black-kale ravioli, roast duck, Frozen Lemon Fluff Honey.
Note: The house "spent grain" bread is one of the better restaurant breads in town.
Scratchpad: Two stars for the grub and another for the polished service and relatively modest prices.

Upland
345 Park Ave. S., nr. 26th St.; 212-686-1006; uplandnyc.com
Hours: Monday to Saturday 5 to 11 p.m., Sunday till 10 p.m.
Prices: Appetizers, $10 to $20; entrées, $17 to $59.
Ideal Meal: Whole crispy mushroom, chilled farro noodles with sea urchin and/or bucatini cacio e pepe, roasted short rib for two and/or crackling porcelet, pecan pie.
Note: If you're tired of the same old anchovies and romaine, the "five lettuce" Caesar is a refreshing take.
Scratchpad: One star for the pastas, one for the vegetables, and one for the chef's superior meat-cooking technique.
*This article appears in the January 26, 2015 issue of New York Magazine.