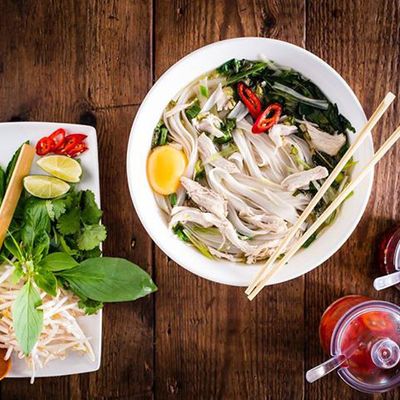 Definitely not Mama Pho's pho.
Photo: Pho/Facebook
Presumably finding itself saddled with wan-looking beef and lackluster rice noodles, Mama Pho, a new Vietnamese joint in Melbourne, Australia, hatched a brazen plan: Find a similar establishment with a similar menu that's far away, then steal all of its original art. In recent days, Mama Pho allegedly went all-out by posting pho goi and spring rolls to Twitter, Facebook, and Instagram, all of them looking like the work of a professional because, well, they were. And if you know anything about the internet, you know by now exactly where this is going.
"They" — the Pho Restaurants chain in London, and food photographer Paul Winch-Furness — found out, and the London food scene galvanized around them pretty quickly:
@dan_lepard @chrispople @PhoRestaurant Another pic looked too good on @mamapho_melb Instagram - @caytrevietgrill pic.twitter.com/N0N0iHWoag— Paul Winch-Furness (@paulwf) January 5, 2015

@chrispople @mamapho_melb @paulwf also used for advertising on the @WestfieldAU website pic.twitter.com/BQzHbNdAEB— Pho (@PhoRestaurant) January 5, 2015

"When we used Google's Image Search on the other food photos they were using, they were all stolen," Winch-Furness told Smart Company. "All photos of food were not theirs." Interestingly, a Facebook user put several Winch-Furness pics — including the one currently in use as Pho Restaurants' Twitter background — on Mama Pho's page back in November, which may be how it learned of them. Mama Pho, whose website lists its status as "opening soon," hasn't talked to any media yet about the flap, but the offended parties say it wasted no time scrubbing its social-media pages of aped images shortly after everything broke on Twitter, but not before allegedly tweeting Pho a very special message:
.@paulwf they sent us a DM saying "go fuck yourself. hahahaha"— Libby Andrews (@LibbyEAndrews) January 5, 2015

And leaving a comment on its Soho location's Instagram:
@paulwf @jamieklingler @chrispople @PhoRestaurant now this - after STEALING our lovely food photos pic.twitter.com/J2TbYcZ4Jj— Libby Andrews (@LibbyEAndrews) January 5, 2015

Let's hope the eventual food that comes out of that kitchen has better taste than the owners.