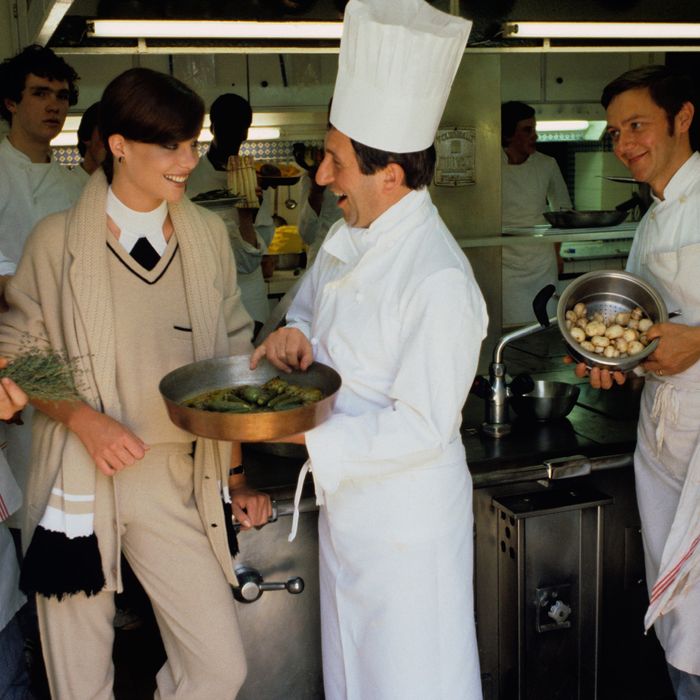 This model's outfit never went out of style, so why can't quiche still be trendy?
Photo: Denis Piel/Condé Nast Archive/Corbis
If the Art Deco grandiosity of the Rainbow Room can be polished and primped for relaunch, there's certainly some hope for caviar-stuffed beggar's purses. Food trends come and go, and plenty from the '80s — like the Quilted Giraffe's famed signature bundled crepes, cinched with chives and ogled by movie stars — seem poised for a comeback, along with more maligned items from the decade. After all, Jeremiah Tower's Tavern on the Green reboot now serves "Stars' Salmon Tataki 'Carpaccio,'" a clone of the chef's iconic dish from his infamous San Francisco restaurant. Jonathan Waxman's forthcoming Central Park restaurant will be a "modern interpretation" of Jams, his circa-1984 powerhouse of California cuisine. And chef Kevin Sbraga's new Philadelphia restaurant is all-out '80s-themed, not just by way of its house soundtrack but also its greatest-hits package of vintage recipes, like Alfredo-sauced fettuccine and casseroles.
Look closely enough and all signs point to a Reagan-era revival at hand — or at least there's hope for these misunderstood ingredients, techniques, and trends. Here are 11 of them whose time has come, again.
1. Quiche. The majestic pastry, with its elegant fluted edges and yellow eggy filling, crested in the 1970s and peaked in the early '80s with the shame-inducing best seller Real Men Don't Eat Quiche. The cold quiche war is over now, and there's great Lorraine at Petee's Pie Co. on the Lower East Side. Our full-fat, butter-and-cream-appreciative chefs should bring it back.
2. Pasta salad. "The pasta salad, that darling of the carry-out shop, is here to stay," wrote the Times back in 1982. Cruelly, the newspaper was incorrect. Gotham Bar & Grill once served pasta salad, with lobster, bell peppers, sevruga caviar, and favas — it was probably beautiful, but by the late '80s, the "pasta salad" was menu shorthand for we've-taken-all-the-meat-we-had-going-bad-and-mixed-it-with-overcooked-penne. The medium could come back like a whisper of heresy in our era of gluten-naysayers and carb-avoiders. Plenty of chefs cook superlative pasta; several more make excellent salad.
3. Blackened everything. Paul Prudhomme touched down in NYC in 1985 with his signature redfish recipe, which involved a coating of ground spices and a rest in a red-hot cast-iron pan. The technique led to "blackened everything" and "a hundred imitations," New York wrote, most of which were just badly singed proteins. Momofuku Ssäm Bar has been blackening fish proudly since 2010, however, and "blackening spices" are blotted onto the cured salmon at Dirty French. Blackened anything long ago fell out of favor because it became a euphemism for what you did to fish that was going bad; the technique is ready to break through because chefs are once again taking it seriously.

4. Pasta primavera. What started off as a high-end feat in the kitchens of Le Cirque and "by far, the most talked-about dish in Manhattan" in the 1970s became an unrelenting culinary joke of the 1980s, synonymous with power lunches at Michael's and a kind of grim, Patrick Bateman-esque yuppie flippancy. By all accounts, chefs are more conscious of how many miles away their candy cane beets were potted, and some even mill their own grains for pasta. Mind-bending, staggeringly good primavera is at least in theory just one step away.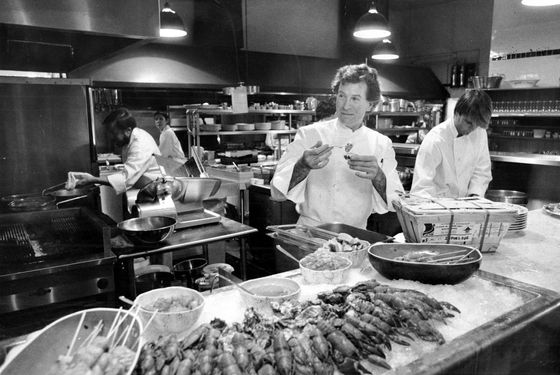 5. Nages. Everyone is talking about bone broth, but another, vaguely mysterious all-purpose fluid once pooled in the bottom of many over-the-top bowls of '80s food. More than a stock and less than a broth, it seemed like not even chefs really knew or agreed what a nage was, other than it was a holdover from nouvelle cuisine and it was some healthy-sounding liquid you poached things in during an era when everyone was afraid of butter. Nages bathed lobster tail at Le Bernardin, scallops at Au Manoir, and so on. Like gastriques and vegetable "confetti," this one never really left, it's just that no chef has stepped forward to re-embrace the term.
6. Chicken Marsala. Once as plentiful as fried chicken is today. Too many kitchens that kept gallon jugs of industrial strength "wine" churned it out throughout the decade and eventually we hit Peak Marsala. Dark days ensued. Consider it a cautionary tale, but in the meantime, the fortified wine itself is experiencing a resurgence and newfound respect — "marsala" is even Pantone's color of the year — a revival should happen any day now.
7. Swordfish. Bronx-born chef John Clancy popularized kebabs of swordfish, as well as the mesquite it was grilled over, beginning in 1981 at his namesake Greenwich Village restaurant. Hundreds of imitators followed, as did swordfish carpaccio and "ravioli" made with slices of steak filet. In the '90s, it got overfished and promptly disappeared from menus. Stocks have since recovered, which is why it's time for this fish to hit more menus, stat. Santina, Major Food Group's new one, and Mario Batali's redo of La Bottega are both Italian-coastal-oriented, so consider the comeback under way.
8. Crazy '80s Logos. We've been so preoccupied with Edison bulbs, antique farm tools, and reclaimed barn siding for the last ten years that our dining rooms have too often favored archaic printing press symbols instead of garish, neon '80s fonts. Restaurants like Dirty French — where Hall and Oates booms through the dining room, the sommelier wears vintage Gunne Sax, and there's Duck a l'Orange on the plates — have the guts to proffer a bright pink, scrawled-out logo, Dirty Dancing style. Santina, too. There's nothing wrong with the all-lowercase contemplative quietude of Estela, Take Root, and Brodo's official logos, but more of the pre-millennial brashness of Tower's Stars, the Quilted Giraffe's loopy script, and even the impeccable penmanship of An American Place's logo would seem like a welcome return.
9. Four-bean salad. You would think our newfound era of haute-veggie madness would lead to a resurgence of this classic. So far, it has not. But come on. Everyone loves beans.
10. Pink peppercorns. People used to go nuts for pink peppercorns, especially after a fear-mongering 1983 ban was lifted. They were paired with filet of sole at Dino De Laurentiis's Trump Plaza restaurant, dispatched into au poivre sauces at high-end steakhouses, and otherwise punctuated so many beurre blancs. Mimi Sheraton grew weary of them as early as 1984, dismissing them as the "conceit of nouvelle cuisine advocates" that "only occasionally add interest to food." But pink peppercorns, which aren't peppercorns at all, were just coming into their own, and there have been approximately one million food revolutions since then. Pink peppercorns remain one of the most perpetually blacklisted and maligned spices, most recently seen as an (inedible) platform for oysters at Bâtard.
11. Glass plates and other tableware weirdness. The dominant aesthetic at upscale restaurants these days are crumpled plates and shallow, oatmeal-colored bowls that look like they could have been handcrafted by Hobbits. Flip through the pages of Cooking With the Seasons, the groundbreaking cookbook by Jean-Louis Palladin, and you'll see a plate for a raspberry Napoleon as thick as a telescope lens, assorted square formats, and another that looks like it would hurt if it fell on your head. The chef's immeasurable influence still ricochets through the profession today. Surely someone is ready once again to pay respects to that ambitious style of tableware, too.