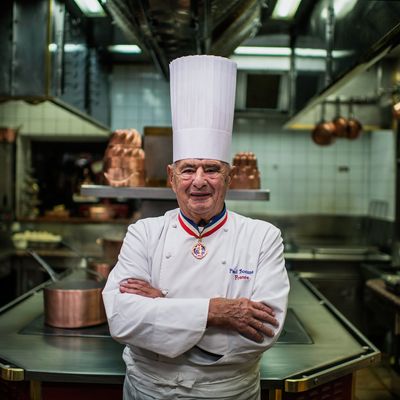 The master.
Photo: Jeff Pachoud/AFP/Getty Images
The results of this year's Bocuse d'Or were announced this afternoon in Lyon amid the fanfare of popped Champagne, plenty of air horns, and some straight-up Lord of the Rings–style overtures blaring in the background. Chef Philip Tessier and Skylar Stover of the French Laundry in Napa represented the United States at the world's most prestigious culinary competition, which takes place in a two-day frenzy of high-stakes knife work and impossibly elaborate plate presentations. All of the winners are below, but first take a look at this:
That's what 250 Michelin stars in a dining room looks like.
And this, from coach Gavin Kaysen's Instagram, is just one small snapshot of Team USA's mise en place.
Kaysen, who left Daniel Boulud's restaurant group last year to open his own place in Minneapolis, his hometown, has been documenting a lot of the more spectacular feats of the last two days on his Twitter feed. In addition to support from Bocuse d'Or U.S. directors Jerome Bocuse, Daniel Boulud, and Thomas Keller, the chefs Gabriel Kreuther and Richard Rosendale coached the competitors. Alinea's Grant Achatz, who also coached our competitors, announced Tessier and Stover's victory. This is the first time the team has ever cracked the top five in its 28-year history — the closest Team USA has gotten to the top is sixth place; we landed at seventh place in 2013.
Gold: Norway
Silver: United States
Bronze: Sweden
Best Promotion: Argentina
Best Poster: Hungary
Best Commis: Antti Lukkari from Team Finland
Special Fish Prize: Japan
Special Meat Prize: Finland
Here are some photos of the winning plates; the serving ware itself was designed by Martin Kastner, who created the unique pieces used at Alinea.
The meat plate included barrel-oak roasted guinea hen, a "garden" of sweat peas, black truffle consommé, and preserved chanterelle mushrooms.
The fish plate up close @mentorBKB #RoadToLyon pic.twitter.com/wiOgA6sCn9— Gavin Kaysen (@gavinkaysen) January 27, 2015

The garnish for the meat platter up close @Bocusedor @mentorBKB #RoadToLyon pic.twitter.com/Xtm9746iIk— Gavin Kaysen (@gavinkaysen) January 27, 2015

Team USA Meat: Barrel-oak roasted guinea hen pic.twitter.com/bq5UWUhqxH— ment'or BKB (@mentorBKB) January 27, 2015

#TeamUSA Fish: Brioche-crusted brown trout pavé pic.twitter.com/fkG9CAowIW— ment'or BKB (@mentorBKB) January 27, 2015

Everyone who feels encouraged by these results — that gold is really in reach now! —  should keep in mind that warm-ups for 2017 begin in just months. Our next pair of competitors will have around 400 days to train once the finalists are selected in December.