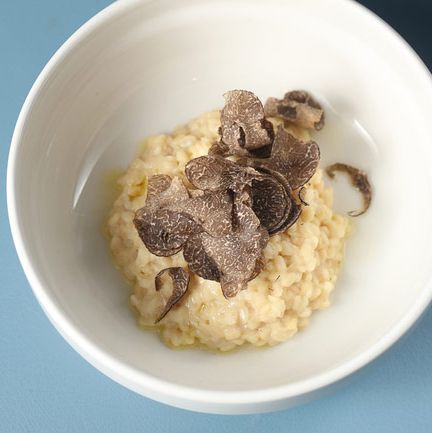 Café Clover opens tonight with this unique take on truffled risotto.
Photo: Courtesy of Café Clover
White truffles arrive each fall with all the pomp and circumstance we've come to expect — especially when a four-pound monster sells for $61,000 — but now is prime time for fresh black truffles. As always, New York restaurants are making good use of the delicacy and ingredient that tends to be more versatile than its white counterpart. That means you'll now find black truffles in soup dumplings, mixed into arancini, or even paired with celery root that's braised inside a pig's bladder. Here are ten options that truffle fiends won't want to miss.
Gnocchi With a Black-Truffle-Infused Fonduta
Where: Piora
Price: $26
Chef Chris Cipollone tops his pillowy pasta with roasted local mushrooms and a black-truffle-infused fonduta. Then he adds even more cheese in the form of shaved Fontina Val D'Aosta — which has a flavor that's reminiscent of truffles.
Slow-Roasted Celeriac With Black-Truffle Butter
Where: Upland
Price: $14
Celery root's creamy, earthy character is a natural complement to fragrant truffles, which is why the pairing is so common. At his new restaurant, chef Justin Smillie gives the combination its proper due with this seasonal item.
Black-Truffle Arancini
Where: All'onda
Price: $12
At $12, these stuffed rice balls — which also include Parmesan — are a total steal.
Warm Burrata With Brussels Sprouts and Black Truffles
Where: Colicchio & Sons
Price: $35
A cheese-and-black-truffle combination is the ultimate comfort food (for high rollers, anyway). And there's also a black-truffle Amish chicken on the tasting menu, served with Brussels sprouts and wheat berries.
Black-Truffle Chicken-Soup Dumplings
Where: RedFarm
Price: $20 (for two)
These seasonal dumplings have made their return to Ed Schoenfeld and Joe Ng's restaurant — and they're as rich and wonderful as you want them to taste.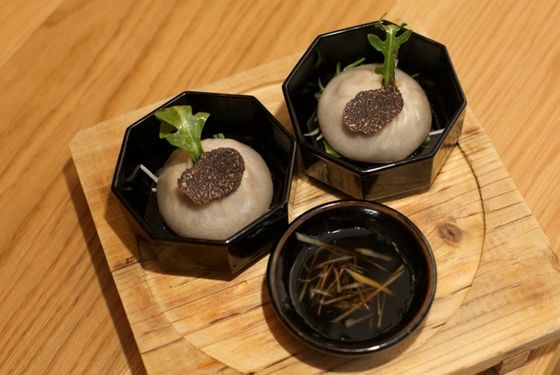 Ivory-Lentil Risotto With Black Truffles
Where: Café Clover
Price: $16
In the "risotto" at this brand-new, health-minded West Village restaurant, rice gets swapped out for aldente lentils. That said, the dish isn't too virtuous: Chef David Standridge adds a teaspoon of cream, a pinch of grated parmesan, and fresh truffles.
Seed Risotto With Black Truffles
Where: Acme
Price: $22
And if you're looking for yet more risotto, chef Mads Refslund prepares his with roasted mushrooms and black truffles.
Celery-Root Braised in Pig's Bladder With Black Truffles
Where: Eleven Madison Park
Price: Part of the $225 tasting menu
In this elaborate dish, a pig's bladder gets pumped up like a balloon (take a look). Chef Daniel Humm is also serving a simpler black-truffle dish as part of the NoMad's $29 prix fixe lunch menu: celery-root tortelloni with black truffles and Parmesan.
Garganelli With Veal Blanquette and Black Truffles
Where: Marc Forgione
Price: $24
You can make a whole meal out of black truffles here: The restaurant's also shaving black truffles over its signature chicken under a brick, for $62.
Steak Tartara Piemontese
Price: $22
Where: Locanda Verde
Andrew Carmellini's a big fan of truffles — and there's no better place to enjoy them than at his original Italian restaurant. Plus: How can you go wrong with pristine beef, hazelnuts, and black truffles?