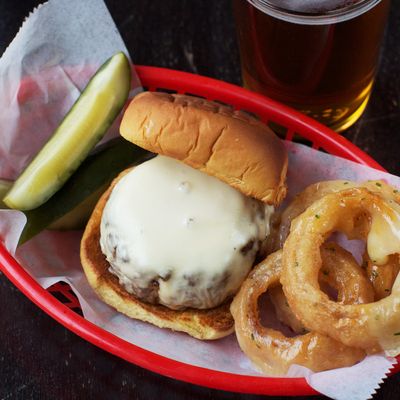 It costs $13.
Photo: Melissa Hom
It's only been ten days since Wylie Dufresne closed wd~50, but it's clear that the chef is keeping busy: He's unveiling a brand-new $13 cheeseburger tonight at Alder, which will be available in limited quantities at the bar from 6 p.m. until it's sold out.
This is no ordinary burger, of course. The patty is made from a combination of chuck and brisket (provided by Pat La Frieda), and Dufresne grinds shio kombu — cooked in sake and tamari — into the meat. "It gives it a nice umami boost," he says. He tops the burger with his signature housemade "beer cheese" — a mixture of American cheese, Cheddar cheese, and Greenport Harbor Brewing's Harbor Ale — and uses a classic Martin's potato bun that's been brushed with beef fat and toasted on both sides.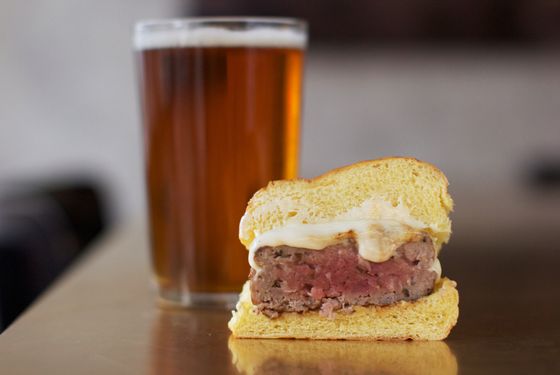 And this is actually Dufresne showing restraint — he didn't want to create something too highbrow. "I think restaurant burgers tend to get more elaborate, and a bar burger tends to be a bit simpler in its conception," he says. "We are only serving the burger at the restaurant's bar, so we wanted to split the difference and keep it somewhat clean and simple."
The burger comes with half-sours from the Pickle Guys, and the "all-in" option, for $21, includes half an order of French Onion Soup Rings and a glass of Harbor Ale. The chef once told Grub that even if he could make a ketchup that tastes better than Heinz, he wouldn't want to fight the goliath. So no sauce comes on the burger, but if you ask for ketchup, mustard, or mayo, he's happy to comply. "I am, when it comes to burgers, a bit of a traditionalist," he admits.