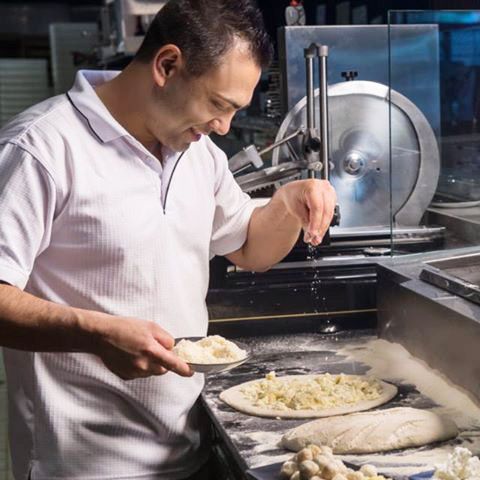 The Ninja Turtles approve.
Photo: 400 Gradi/Facebook
A perfectly balanced four-cheese white pizza is mere child's play now for world champion pizza-maker Johnny di Francesco, who this weekend ran absolutely amok with the all-dairy-topping theme at his restaurant 400 Gradi in Melbourne. His latest creation is the Novantanove Formaggio, presumably the world's first and only 99-cheese pizza.
Di Francesco says he took on the project because, in his words, "[n]o one has done this before." So he blocked off some time to hand-select all 99 cheeses and put together six test recipes until he hit upon something that one reviewer calls "surprisingly nuanced." The actual pie looks like this:
The first 94 cheeses get melted in a pot, a process that takes up to an hour. Di Francesco then blast-chills them, creating the pizza base, and sprinkles buffalo mozzarella (95), goat cheese (96), fior di latte (97), ricotta (98), and raspadura on top to bring the total to 99. (The AU Review has the full list.)
If you're wondering why not add one more cheese for an even 100, the answer is: Teenage Mutant Ninja Turtles. In the recent movie, the turtles discuss a multi-cheese'd monstrosity such as this, but Donatello swears a 99-cheese pie is a "culinary impossibility":
Alas, it's very possible — even if the pie's creation appears simply to be a marketing stunt for the Turtles movie, as evidenced by its packaging.
Worlds first 99-cheese pizza avail this Sat in #Melbourne (booking details, cheese list inc.) http://t.co/09u3nOEzyl pic.twitter.com/r9zjRZ0qVM— the AU review (@theAUreview) December 9, 2014

Cowabunga.
[Guardian]