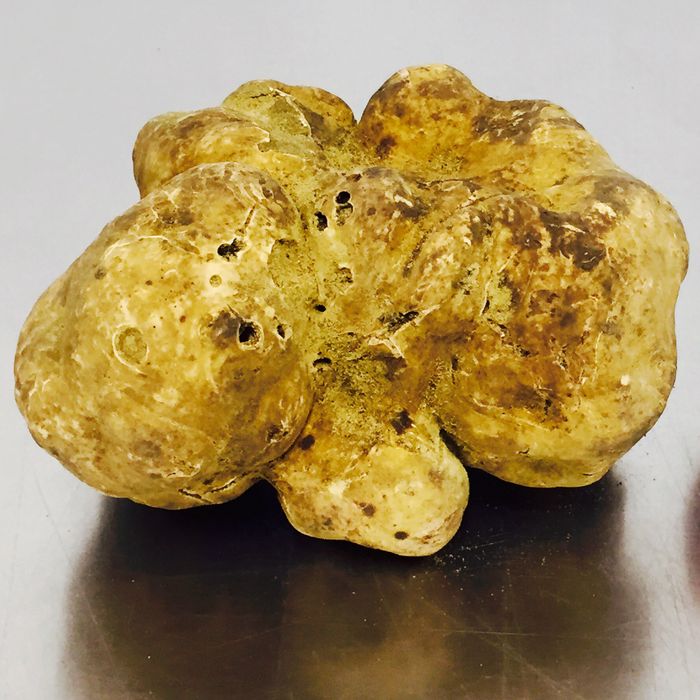 That's a normal-size apple, for comparison.
Photo: Courtesy of Jane Walsh
Coming in at 4.16 pounds, this behemoth white Alba truffle was unearthed last week, right at the peak of the season, and promptly airlifted to New York City, of course. Sabatino Truffles turned down million-dollar offers from private buyers in China for the jumbo specimen, which is just about two times the size of the largest one on record. Normally, any white truffle that weighs in above the two-pound-mark is the subject of tycoon squabbles or restaurateurs who showcase the thing in their dining rooms like the freak of nature it is. Sometimes monster truffles are sent off to world leaders as tokens of appreciation.
The kind folks at the truffle company are skipping all that and are diverting this Tuber magnatum to Sotheby's, where it will be auctioned Saturday to benefit Citymeals-on-Wheels and the Children's Glaucoma Foundation. It would make an excellent centerpiece for your holiday table, or a fine gift for someone's dentist or doorman. In any case, there's enough truffle here to shave over approximately 10,000 risottos, and it probably also goes great with some Dom Pérignon and fries from Shake Shack. The starting bid will be around $40,000.
* This post has been updated with new information.