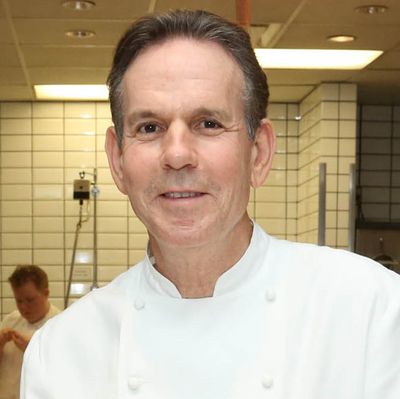 Get ready to pre-pay at Per Se.
Photo: Rob Kim/Getty Images
New York restaurants have flirted with the idea of selling tickets for dinner: Most notably, Aldea offers tickets to its chef's counter and Wylie Dufresne sold tickets to the send-off dinners at wd~50. (To great effect.) Both places used the ticketing system developed by Nick Kokonas, which is now officially called Tock. In addition to the new name and a growing staff, Tock has also signed up none other than Thomas Keller, who will begin selling ticketed reservations at his celebrated restaurants the French Laundry and Per Se next year.
Kokonas's system has already proven successful at his own fine-dining establishments in Chicago, but Keller's involvement is clearly a watershed moment for the city's dining culture — Per Se's involvement will really be the first true test for ticketed dining in New York.
The setup is straightforward: Tock allows restaurant customers to make a reservation and pre-pay in one transaction. One the diner's side, this takes care of everything up front, and built-in service charges replace the messier aspects of tipping by eliminating them altogether. At least in theory, a properly calibrated ticketed system could allow a restaurateur to provide better service and be more on point in general: Asking diners to pay for everything ahead of time can greatly reduce the number of no-shows that plague the industry as a whole, but moreover, when a restaurant knows exactly how many guests will fill its chairs, food costs can be more tightly controlled and front-of-house resources can be allocated better. (Former critics who considered the ticketing system rigid are being won over by the "toolbox" of customizable features Kokonas & Co. are building into the system.)
What does this mean for a place like Per Se, which by most accounts is already running like a Swiss watch? Keller's restaurants will reportedly charge guests for food and service, but not wine, when a reservation is made. Keller says this will improve the relationship between customers and management by cutting out some of the inconveniences of reservation-making, like busy signals and voice-mail messages. ("[T]he majority of our guests who get through get the response of 'Sorry we're booked,'" the chef tells Inside Scoop.)
In return, the restaurant stands to increase its overall efficiency, knowing that they won't lose revenue on a no-show. That, of course, is good news for Keller's business, and enables the team to better marshal its resources.
At a restaurant like Per Se — where open seats are difficult to come by and people eating in the dining room aren't typically walk-ins off the street looking to drop in for a quick bite — the system makes sense to both the business and the diners. But even with all the new information that's trickling out about Tock, it remains to be seen whether it can be implemented for more casual restaurants. Kokonas & Co. say they have plans to address that in the future, but at the moment, Keller, at least, is taking a wait-and-see approach there, opting to stick with more traditional table-booking methods at his less-formal Bouchon bistros.