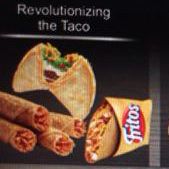 Photo: Candice Choi/Twitter
Taco Bell has sold over $1 billion worth of Doritos Locos tacos since 2012, but in fast-food years, these things are as old and uncool as your grandpa. Sales plummeted after the addition of each new flavor, the chain tried waffle tacos for breakfast, and now, there's this:
If this slide during a presentation to investors is to be believed, Taco Bell will next make a shell of Fritos. The chain isn't ready to talk about bags of Frito tacos yet or how long it takes before we get Chili Cheese — a rep tells Grub, "We're always innovating and testing new concepts" — but Fritos are already an integral part of the Beefy Fritos Burrito, in addition to being a "dip." Fritos chalupas can't be too far behind.
[@candicechoi, BI]