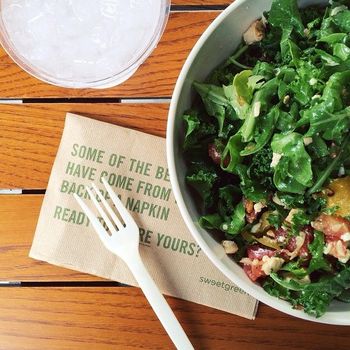 Green all over.
Photo: Sweetgreen/Facebook
It was just 16 months ago that Sweetgreen, the fast-casual salad company that's based around sustainable and local menu items, made an auspicious debut at the NoMad hotel with ingredients like apples from upstate New York and Pennsylvania-sourced turkey breast. The burgeoning chain went on to open in Tribeca and most recently picked up $18.5 million for expansion, including cash from Danny Meyer and Daniel Boulud, and now Sweetgreen is about to introduce two more locations. First up is 100 Kenmare Street in Nolita, which opens December 10, and less than a week after that Sweetgreen will take Williamsburg at 162 North 4th Street, where the shop will soon be in the company of Umami Burger and an outpost of Parm.
From 11 a.m. to 4 p.m. on December 9 and 15 in Manhattan and Brooklyn, respectively, each new Sweetgreen will soft-open with a "Pay What You Want" schematic, which is exactly what it sounds like, with 100 percent of proceeds going to nonprofits — GrowNYC for Nolita, and Education Through Music for Williamsburg. The afternoons also give the salad-makers a crucial warm-up with the tongs.
Related: Sustainable Salad Chainlet Sweetgreen Raised $18.5 Million for Expansion