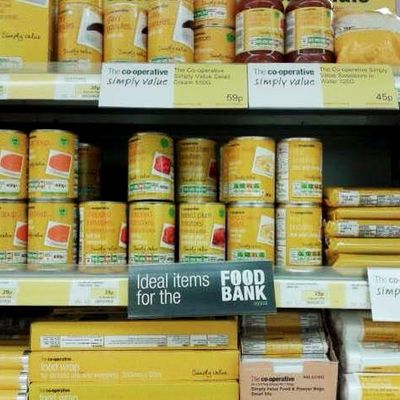 The Central England Co-operative, a chain of stores in the U.K., recently placed the below sign next to its "Simply Value" nonperishables — and then spent a long weekend dealing with the blowback after Dan Paris, a Scottish politician "floored" by a photo he saw on Facebook, posted the shot to Twitter, at which point it was retweeted thousands of times:
The typical response was mild fury, no surprise.
Time to picket the Co-operative. pic.twitter.com/vMS6Byhab0— Saint_Catalonia_ (@_Paul_And_) December 13, 2014

@chunkymark @ALICAT9128 @TheCooperative Arseholes. Buy them something decent, top quality. Tins are bad enough. Cheap tins are an insult.— PAT STONE (@PATSTONE55) December 13, 2014

What fresh marketing hell is this? "Ideal items for the food bank"? #BackToThe30s #ConDemNation pic.twitter.com/D68md0TnTu— Sheenagh Pugh (@sheenaghpugh) December 14, 2014

The store itself has kept quiet for the most part, choosing instead to repeatedly tweet a link to its food drive mission statement.
We support food banks in our local communities to help alleviate food poverty. Click here for more details: http://t.co/3yt1NTVRDq— Central England Coop (@mycoopfood) December 15, 2014

It's easy to see why the store might have wanted to remind customers about its food-bank initiative — it operates permanent food banks in 60 stores — but, as Paris summarizes, "Putting it next to cheap own-brand food has clearly struck a nerve."
The shop has since released a statement and apology to BuzzFeed, explaining in part, "a temporary shelf edge notice was developed to help customers locate food products which the foodbank in that particular store wanted donated during the event … We would also like to point out that the quality of our value products is extremely high which is why they prove so popular with many of our customers who buy them for their own use more often than as donations to foodbanks."
[BuzzFeed]