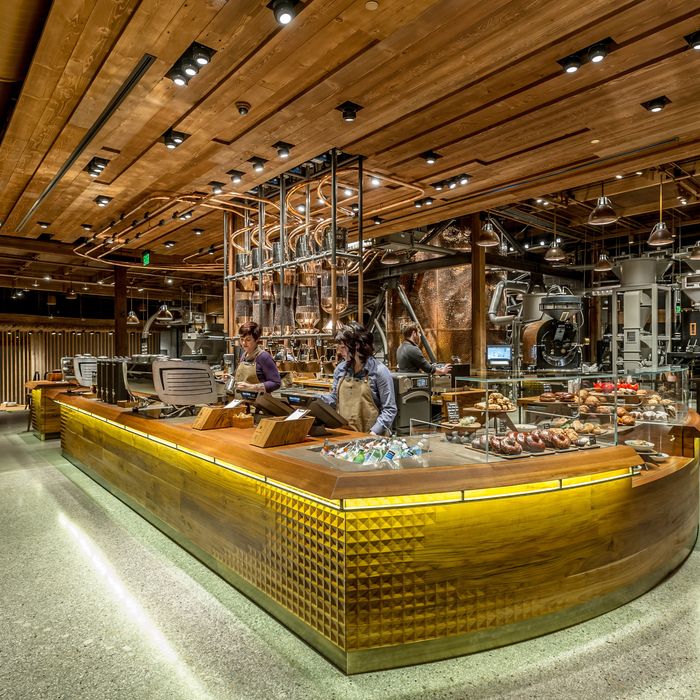 Yes, that guy is wearing a custom-made apron.
Photo: MG Photography/Courtesy of Starbucks
Today is the day that Starbucks'$2 15,000-square-foot Reserve Roastery opened for business in Seattle's Capitol Hill. The high-end room is appointed with lots of hammered copper and raw wood, and otherwise it's a bunch of very un-Starbucks-like offerings like Sumatra Peaberry Lake Toba brewed in a Chemex. The company says the space, which is all about state-of-the-art roasting and precise brewing methods, is the first of many, and an attempt to reclaim a prominent stake of coffee culture offering "a spectrum of experiences." As such things go, Reserve cafés are planned for "hip urban areas" in Chicago, New York, and Los Angeles.
The roastery side is all steampunked out with shiny copper vats and vacuum tubes, while the café has what the nerdiest coffee drinker has come to expect from their neighborhood brew bar: LED-equipped siphons for ultimate coffee theater, the under-counter Modbar setup that's all the rage, and sturdy real wood furniture. The siren is MIA; in her place is a big black capital R, to stand for the company's higher-end coffee line. There aren't even "baristas" anymore. You're now served by a "coffee master." The idea, of course, is to compete with not just the masterful coffee art, but also the stunningly beautiful interiors of third-wave cafés. Accordingly, this also means large, 32-ounce cups of the "exclusive" Pantheon Blend coffee cost $8.
The game plan is to open 100 of these Reserve cafés worldwide over the next five years. Sprudge notes that while a cynic "will see shades of the Cheesecake Factory," an idealist can find "an enormous possibility for widening the consumer base for specialty coffee," much like what the company has, ironically, already done.
Related: Caffeine Fix: 58 Extraordinary Coffee Shops Around America
[Bloomberg]