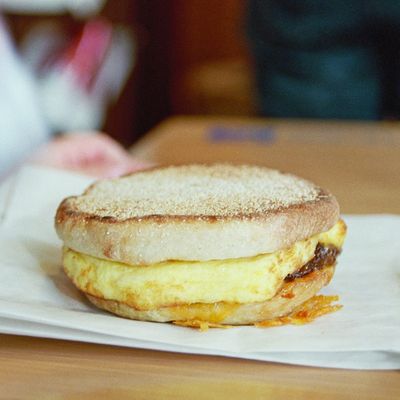 Good news for egg sandwich lovers.
Photo: Sarah Gilbert/Flickr
Months after a petition posted online garnered nearly 136,000 signatures, Starbucks has made a strong commitment to not buying battery-cage farm eggs and has updated its "Animal Welfare-Friendly Practices" sheet. The statement is part of a broader partnership with the Humane Society of the United States.
October's Change.org petition targeted the coffee giant for allegedly sourcing "the vast majority" of its eggs from farms where hens live in cages the size of "seven Venti Starbucks cups" for life. While Starbucks had been using some cage-free eggs for a while, for menu items like those in its breakfast sandwiches, critics said not all of the chain's sourcing methods were as welfare oriented.
The nonprofit says other forthcoming changes at Starbucks amount to "the most comprehensive animal welfare policy of any national restaurant chain." Plans exist to phase out gestation crates entirely, eliminate artificial growth hormones, and quit inhumane feedlot and slaughter practices like dehorning and castration without anesthesia so that eggs, milk, and pork come from hens, cows, and pigs that have been raised more humanely.
The implementation of these changes is unspecified. In a statement, Starbucks said it is "working with the industry on creating reasonable timeframes." While the Humane Society sounds a little bummed by that, it calls it "an especially significant pledge" nonetheless. "What Starbucks is doing is not only better for animals, [but] it's also business savvy," president and CEO Wayne Pucell writes. "We live in a society where major corporations increasingly recognize that its customers want to see animals treated with decency."